When you're limiting calories, hunger and a lack of energy can put a real damper on your diet plans. But if you choose the right foods, you can feel full and energized without going overboard on your calories. If you're concerned about your diet and health, talk to your doctor or dietitian.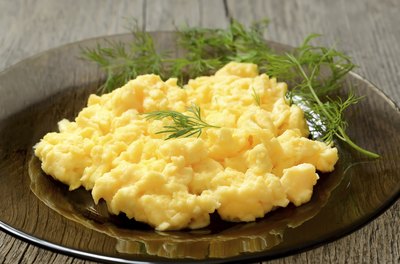 Power of Protein
To keep hunger at bay, protein foods are the most satiating, according to the European Food Information Council. A balanced and healthy diet should include 10 percent to 35 percent of calories from protein. Good high-protein foods that have the most hunger control include poultry, fish, eggs, beans and lentils.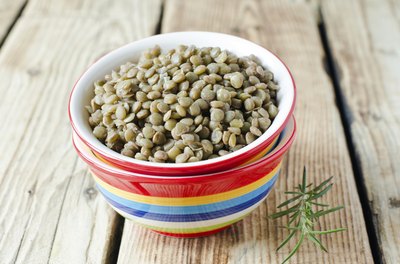 Filling and Energizing
All the macronutrients -- carbs, protein and fat -- supply your body with some amount of energy. But because they're easy to digest and metabolize, carbs are the body's preferred source of fuel.
Fiber is a type of carbohydrate your body cannot digest, and like protein, it also helps control hunger. For energy and hunger control, eat more high-fiber carbs such as fruits and whole grains. Vegetables are also a source of fiber and contain a small amount of carbs.
You should get 45 percent to 65 percent of calories from carbs, and aim for 14 grams of fiber for every 1,000 calories you eat, or about 25 grams a day for women and 38 grams for men.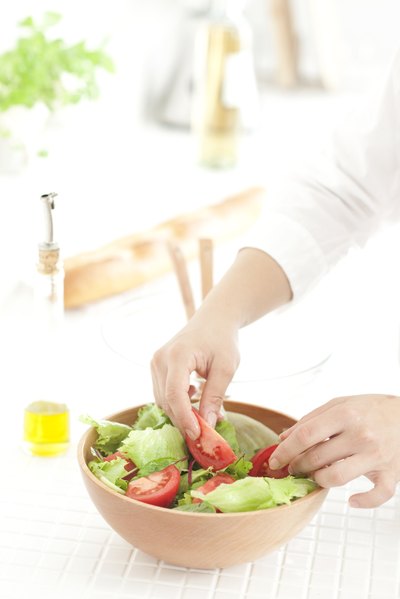 Power Up at Breakfast
A filling and energy-stoking breakfast might include a spinach and low-fat cheese omelet, served with whole-wheat bread and a container of nonfat yogurt. A bowl of whole-grain cereal with nonfat milk and an orange may also keep you going until lunch. Or, for a quick breakfast on-the-go, spread natural peanut butter on a toasted whole-wheat English muffin and serve with a container of nonfat milk and a banana.
Energizing Lunch
Potatoes are especially filling, according to EUFIC, so top a baked potato with broccoli and low-fat cheese, and serve it with nonfat yogurt and a fresh apple for a healthy lunch. You can also try a big bowl of mixed greens with chickpeas, walnuts and raisins, served with a bowl of vegetable soup and whole-grain crackers for a satisfying, energy-filled meal. Tuna stuffed into a whole-wheat pita and served with sliced peppers and cucumbers with a bowl of mixed berries on the side also makes a healthy and filling lunch meal.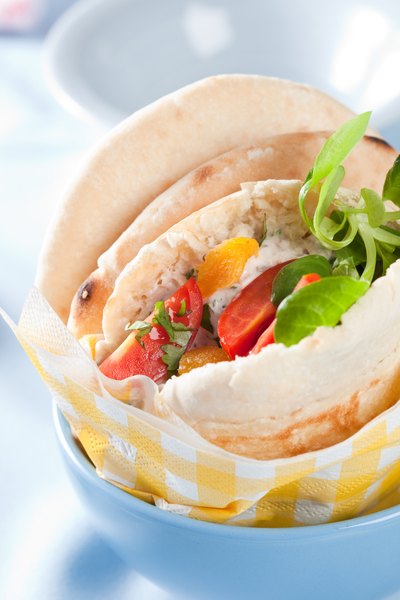 Fuel Up at Dinner
Toss whole-wheat pasta with cooked broccoli, carrots, cauliflower, diced chicken breast, tomato sauce and Parmesan cheese for a satiating dinner. Grilled salmon with a baked sweet potato and steamed broccoli may also help keep you full and refuel your energy stores after a long day. Or fill up on a whole-wheat tortilla with pureed black beans, served with salsa, a bowl of mixed greens and a side of brown rice.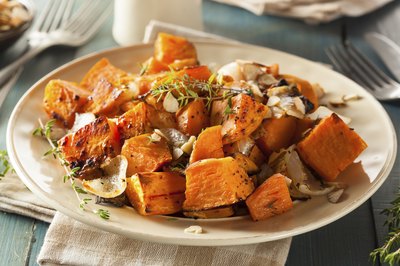 Satisfying Snacks
Healthy snacks also help keep hunger away and provide an extra boost of energy to get you through a midday slump. Eat protein- and carb-rich snacks to get the most benefit. Healthy options include steamed edamame, a handful of nuts, low-fat cheese with whole-grain crackers or a container of nonfat yogurt.