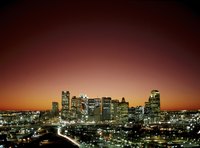 The average renter in Texas earns less than the hourly wage needed to afford the state's fair market rate. However, monthly rent is not the only housing expense tenants face, making it necessary for some to seek financial assistance. Rental fees, security deposits and legal fees when faced with eviction or a landlord-tenant dispute add to rental housing expenses. If you need help with rent in Texas, turn to local resources, such as government agencies and nonprofit organizations, for assistance.
Help With Rental Move-In Costs
Landlords often charge new tenants one or two months of rent, application processing fees and a security deposit. Low-income or otherwise struggling prospective tenants may have difficulty meeting these up-front move-in costs. Grant and loan programs to cover these expenses are available to Texans who qualify. At the time of publication, several organizations throughout Texas offered some form of rental-deposit assistance.
You must be able to afford the regular monthly rent to obtain this assistance, and meet other program-specific guidelines as well. For example, some programs may target veterans, the elderly, the disabled, very-low income renters and the homeless. Program availability depends on funding and participants may have to complete a renter education course.
Eviction Prevention and Legal Services
Texans also can access help to avoid eviction or obtain legal aid. The Texas Department of Housing and Community Affairs funds assistances providers throughout the state to help renters at the local level. For example, the Dallas Bar Association provides pro bono and low-cost lawyers and legal aid that assist renters. Programs also may provide funds to help families avoid eviction, if they can prove that the assistance is temporary and they will resume regular rent payments.
Emergency Rental Help for Texans
Emergency rental assistance programs from nonprofits and charities throughout Texas can cover unpaid or late rent, as well as utilities and other basic needs. Program requirements vary by provider, as does funding availability. Qualifying for temporary rental assistance may require an active eviction notice, residence within certain community or parish boundaries, a disability or barrier to employment.
Federally-Funded Subsidized Rent
The Department of Housing and Urban Development funds several rental-assistance programs that provide permanent housing for low- to extremely-low income Texans. Among HUD's most popular rental programs are the Housing Choice Voucher Program, or Section 8 and its public housing program. Section 8 covers all or part of a tenant's rent, depending on the applicant's need. The voucher program can be used for any privately owned rental unit that meets HUD's guidelines for fair rent, health and safety. Public housing involves government-owned housing projects in which tenants obtain a rent subsidy for a specific unit.
Both programs have set income limits and applicants may face long waiting lists due to high demand and limited federal funds. Contact a HUD-approved public housing agency near you to apply.