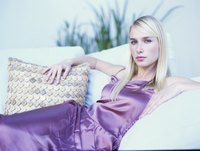 Modal fiber is a variation of rayon that is used to make fabrics with a soft and silky hand. Often nicknamed "artificial silk", modal fabric is super breathable and features a fine weave and smooth texture. Because of its airy softness, this versatile eco-friendly material is most often used to make lightweight summer clothes, sleepwear, and body-hugging undergarments.
Benefits and Characteristics
Modal fabric is made from plant cellulose, namely the fibers found in beech trees. While it's a man-made fabric, it is considered semi-synthetic because it is not made from a petroleum-based product. Modal fabric stays cool, is breathable and doesn't shrink or pill over time. Because it tolerates water well and isn't susceptible to mineral-deposit buildup on the fibers, modal fabric stays soft and maintains its lustrous texture even after several washes.
Blends and Uses
Pure modal fabric is strong, making it well suited for functional clothing, where its lightness and breathability are ideal for strenuous physical activity. While modal fabric can be used on its own to make blouses and dresses -- as well as other articles of clothing that strive for a luxurious and light feel -- it can be blended with other fabrics, such as silk or cotton, to create a truly luxurious fabric. When combined with silk, modal is lighter weight and thinner, giving clothes a weightless feel, while increasing the durability of silk's delicacy. When combined with cotton, model increases the cotton's ability to retain its color.