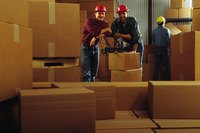 Logistics plays a major role in making sure products are in the right place at the right time and available for customers to purchase. Ultimately, everything that takes place from the time a product leaves the manufacturing plant until it goes to the sales floor is part of logistics. Once products become part of your warehouse inventory, a final decision involves choosing which items to send to the sales floor first. The FIFO method, which calls for sending inventory items out on a first-in, first-out basis, can benefit many different types of businesses.
FIFO versus LIFO
Although your accounting department might favor last in, first out over FIFO, LIFO typically doesn't favor logistics. LIFO allows a business to claim a higher cost of goods sold, thus reducing both profits and the company's annual tax bill. From a logistics perspective, however, FIFO most often is the better alternative. Using LIFO can result in a warehouse full of obsolete, stale or otherwise unsellable products, while FIFO promotes timely stock turnover.
Better Merchandising Control
Using FIFO in a logistics system improves merchandising control. For example, shipping products out or sending them to the sales floor in the order that you receive them makes it easier to track deliveries back to the receiving date. FIFO also ensures that inventory items move through the supply chain in a continuous, orderly manner, a condition required for efficient materials control.
Reduce Product Discounts and Discards
The Department of Agriculture touts FIFO as a basic rule of warehouse management. Sending your oldest stock to the sales floor first increases the chance that perishable food items and products with expiration dates sell while they're still fresh. In addition, using FIFO can ensure that you're not offering products that may have firm expiration dates but do have "best-if-used-by" and "sell-by" dates to customers after these dates expire. All this helps to reduce the amount of inventory that you must either discount or discard, thereby increasing profits.
Obsolescence Prevention
Even merchandise without expiration or sell-by dates can become problematic if it sits on a warehouse shelf for too long. This is especially true for businesses that sell technology-based merchandise or products such as fashion or furniture with a "style-dependent" life cycle. For these products, a FIFO system can ensure merchandise sells before something newer, faster, higher quality or less expensive takes it place.