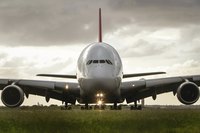 Airbus's 21st-century flagship airliner, the A380, is a double-decker, wide-body jet that typically seats more than 500 passengers. Thanks in part to its spacious cabins, broader seats and wider aisles, the jet has steadily gained popularity since its 2007 debut. Because of the jet's jumbo size, not all airports can handle the A380 -- yet. The latest tally is from March 2014.
North America and Europe
Jumbo-jet travelers to North America can touch down at Los Angeles International Airport, Washington (D.C.) Dulles International, John F. Kennedy International Airport in New York City, George Bush Intercontinental in Houston, San Francisco International, Hartsfield-Jackson Atlanta International, Miami International and Lester B. Pearson International in Toronto.
In Europe, the A380 lands at London Heathrow and Manchester airports, England; Charles de Gaulle Airport in Paris; Frankfurt Airport and Munich International, Germany; Rome's Fiumicino-Leonardo da Vinci International; Amsterdam Airport Schiphol; Zürich Airport; Barcelona–El Prat Airport and Moscow's Domodedovo International Airport.
Asia and the South Pacific
The A380 flies into more than a dozen airports throughout Asia and the South Pacific: Singapore Changi International; Suvarnabhumi Airport, Bangkok; Beijing Capital International, Kunming Wujiaba International, Shanghai Pudong International and Guangzhou Baiyun International, China; Narita International in Tokyo and Kansai International, Osaka; Hong Kong International; Kuala Lumpur International, Malaysia and Incheon International in Seoul. Sydney's Kingsford Smith Airport and Melbourne's Tullamarine Airport in Australia both accommodate the A380, as does New Zealand's Auckland Airport.
Middle East and Africa
The A380 also flies into two Middle Eastern airports – Dubai International and Saudi Arabia's King Abdulaziz International -- and two in Africa, the O.R. Tambo International Airport in Johannesburg and Sir Seewoosagur Ramgoolam International in Mauritius.