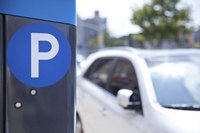 Parking fines are explicitly mentioned by the Internal Revenue Service as a non-deductible expense. Regardless of whether you were driving for business or pleasure, your inability to park legally doesn't get you a free pass from the IRS. Moreover, if your employer reimburses you for parking tickets received while doing your job, that may add to your taxable income.
Crime Doesn't Pay
The IRS doesn't permit deductions for actions that occur while breaking the law. Because parking fines occur when you don't obey the local parking regulations, that represents enough lawbreaking to make the tickets ineligible to lower your tax bill. If you pay the fines out of pocket and your employer pays you back, that money should technically be taxable income.
Businesses Can't Deduct
Businesses generally have more freedom in using expenses to offset revenue when figuring out their tax burden, but parking fines aren't eligible to be used for this purpose. No fines or penalties a business pays to the government are tax-deductible. Parking tickets fall into that category.