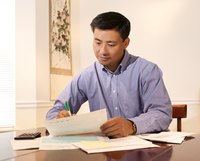 Postdating a check might encourage the recipient to wait to deposit or cash it, but banks and credit unions don't necessarily have to honor that guidance. Once you write the check and sign your name, there's nothing to stop the bearer from collecting. This holds true even if the bank notices that the check is being presented before its valid date. Bank policies tend to limit the institution's obligations when handling such checks.
Alert the Bank First
Simply writing a later date on a check doesn't place the onus on the bank to wait in order to process it. Unless you let the bank know your intentions in other ways, it's unlikely to delay a customer request for payment on it. While there's no federal protection for a postdated check, however, some states require the financial institution to wait to process the check as long as you provide reasonable notice. The amount of notice requires varies. If you provide only oral notice, it's typically valid for 14 days. Once that passes, the bank or credit union can cash the check. If you give written notice, it's valid for six months.