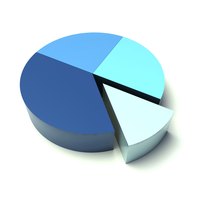 Distribution is even when it's equal, uneven when it's not. For example, the United States population is distributed unevenly. The 2010 census showed some states have a much higher population per square mile than others. In matters of personal income and services, uneven distribution often creates problems.
Income and Wealth
Income is a measure of how much money people make. It is based on numerous factors, including the type of job and industry, where the job is located, and the worker's level of education and experience. Because so many factors are involved, the size of annual incomes can vary greatly from one person to the next. The New York Times reported in 2014 that income inequality has grown steadily since the 1970s. Wealth is unevenly distributed, too, but the differences aren't as extreme. The causes, and whether the unevenness is a problem for society, are hotly debated issues.
Supplying Services
Valuable skills or resources are often distributed unevenly. For example, "American Family Physician" reported in 2013 that there were 68 primary-care physicians per 100,000 residents in rural areas, 84 doctors per 100,000 in urban areas. The lower population in rural areas, the magazine said, will lead to more patients in those areas not getting treatment when they need it. The magazine said offering higher incentives for doctors to work in rural areas might even the distribution out.
Problems of Measurement
One problem with measuring uneven distribution is that statistics can be interpreted and reinterpreted many ways. For example, some economists have argued that studies showing income inequality rising ignore certain sources of income, such as Social Security and unemployment benefits, that greatly boost the income of many recipients and thus reduce income inequality. The Pew Research Center says even after considering those sources, U.S. income distribution is still very uneven.