In Christianity, different colors are used to represent Christ and his love for others. These colors of faith are used at different times of year for church decor, often represented by scarves hanging over the pulpit or from a cross. The colors of faith are also commonly used in Sunday school crafts to help teach the faith to young children in a hands-on way.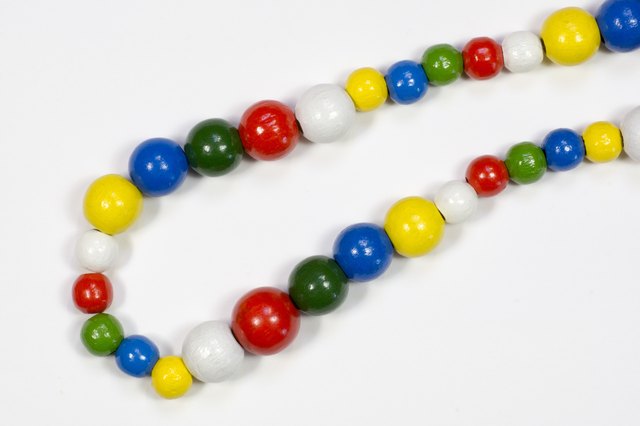 The Colors of Faith
Green - eternal life and hope

Violet - penance and humility

White - innocence, purity and joy

Red - passion, blood and martyrdom

Rose - joy

Black - sorrow and sin

Yellow (Gold) - presence of God

Light blue - hope and the heavens
Colors of Faith Bracelet
Things You'll Need
Elastic string or jewelry string
Plastic beads in each of the above colors
Scissors
Cross pendant (optional)
Step 1
Cut a piece of jewelry string, yarn or elastic string long enough to wrap around the wrist while leaving four extra inches for tying it off.
Step 2
String on beads in each of the colors of faith.
Step 3
Wrap the strand around the bracelet and tie the end in a double knot loosely enough so the bracelet can be removed again. Cut off any extra string with a pair of scissors.
Tip
A cross pendant or charm can be added halfway through the beading process for an added touch.
Colors of Faith Frame
Things You'll Need
Simple 4x6 frame
Adhesive backed rhinestones
Step 1
Give each child a standard frame.
Step 2
Help the children place a photo of themselves into the center of their frames.
Step 3
Let the kids apply the rhinestones to the outside of the frame. Discuss each of the colors of faith and what they mean.
Colors of Faith Keychain
Things You'll Need
Keychain coil
String
Pony beads
Step 1
Cut a 10-inch strand of string. Feed it through the center of the keychain coil and then bring the two ends of the string to meet together.
Step 2
One at a time, pass beads through both ends of the string. Alternate pony beads until all colors are represented, along with the word "Faith."
Step 3
Tie the string in a double knot at the end of the final bead. Make sure the knot is large enough to completely block the opening of the final bead. Cut the excess string with the pair of scissors.