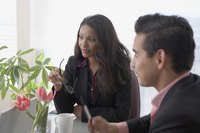 Effective business communication is essential in any organization. However, traditional methods for communicating do not always work. Communication strategies that worked 25 years ago can prove to be stale and time-consuming in today's demanding business environment. If you want your company to keep improving and growing, you should add a healthy dose of innovation to the communication techniques being used throughout your business.
One-Page Proposals
The common goal of writers being brief and concise often gets lost when companies prepare business proposals. While a formal response to a proposal request might require a document spanning hundreds of pages, many promising business opportunities involving a proposal can be handled with as little as one page. This forced brevity can have a positive effect in all forms of business communication and marketing. For example, an unsolicited business proposal to a prospective client can create a new sales opportunity without engaging in a competitive bidding process.
Customized Graphics With Text
According to Billion Dollar Graphics, psychologist Albert Mehrabian said nonverbal communications account for 93 percent of communication. "Seeing comes before words" is how media theorist John Berger describes the importance of images. Whether your readers are employees, suppliers or customers, you might be able to convey your message more effectively by including images that display customized text. For example, if you are writing to your management team about the need to be more innovative in business communication, the customized image would include text that supports this theme. Many individuals think "visually" -- a customized textual graphic can produce a desired communication result immediately and succinctly. This innovative approach to visual communication can also provide additional benefits by conveying an effective message to casual readers who scan articles and proposals without reading every word. The customized text in the image ensures that the right words are not overlooked by a quick scan of the document.
Business Infographics
The use of infographics builds upon the theme of conveying complex data in a format that frequently involves one information-packed page. This approach allows you to visualize your message with a combination of maps, timelines, charts, graphs, comparisons and a variety of other illustrations. This innovative business communication technique makes maximum use of the practical need to communicate quickly and visually.
Specialized White Papers
A white paper is usually designed to be read by a niche audience such as your suppliers or customers. Unlike the millions of basic articles ranging from 400 to 750 words on the Internet, white papers usually range from 1,250 to 2,000 words and cover advanced subject areas. A white paper is geared toward an advanced niche group that already knows the basics -- you can focus your communication efforts on narrow and exotic topics that your captive audience will appreciate because you are speaking directly to their primary business passions. To give your white paper even more impact, you should include customized graphics with text or a pertinent business infographic. A white paper provides maximum flexibility -- you can distribute it in person as a printed copy at a sales meeting, send it in advance by email or post on your company's website.