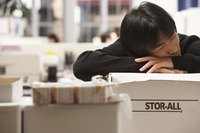 If you think eating one meal a day is going to help you lose weight, think again. Your body needs food and nutrients every few hours in order to function properly throughout the day. Eating only once a day will affect your body's metabolism and, due to the lack of nutrients, you may get sick. Before you decide to eat only one meal a day, educate yourself on the risks involved.
Lack of Energy
The foods you eat, mainly carbohydrates, provide your body with energy. If you only eat once a day, your body will slow down. You may get fatigued and tired and have problems concentrating. Your blood sugar may be stable after eating, but will come down again if you don't provide your body with food. If your one meal consists of sugary, fatty foods, your blood sugar will quickly spike, then drop and you may start feeling lethargic. Eating several times per day provides your body with a more constant source of energy to help you concentrate on the tasks at hand.
Weight Gain
If you eat only one meal per day, at first you may lose weight, but eventually your body will go into survival mode. Instead of getting rid of fat, your body will start holding onto it to protect itself. Your metabolism may slow down and you may gain weight.
Nutritional Deficiencies
You need a large variety of foods to get the vitamins and minerals your body needs, and one daily meal cannot provide enough. Physical symptoms of nutritional deficiencies may start emerging. Your hair, skin and nails may get dry, brittle and dull due to a lack of essential fatty acids. Your oral health may suffer due to lack of calcium and B vitamins. Circles may form underneath your eyes due to a vitamin C deficiency and you may be cold frequently due to a lack of iron, according to the Centers for Disease Control and Prevention. Eating a wide variety of nutritious foods spread over the day can prevent nutrient deficiencies.
Binges
Depriving yourself of food and calories may lead to food binges where you eat all the calories you normally consume over the entire day in one sitting. Binging may cause metabolism and digestive problems and can lead to weight gain. Over time, it may also permanently affect your body's ability to regulate your blood sugar, according to a study in the December 2007 issue of "Metabolism." Even if you manage to maintain your one meal a day, once you start eating normally again, you may gain weight or get trapped in a yoyo-dieting cycle, which may trigger an eating disorder.