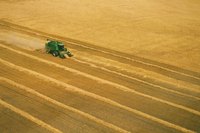 If some of your investments involve agriculture, you might have questions about socially responsible investing and high input farming. For example, it is prudent for investors to review potential ethical and environmental concerns associated with industrial agriculture and intensive farming. These practices often involve a high use of natural and manufactured resources such as water and pesticides to produce profitable results -- but sometimes with undesirable consequences. As reported in an October 2009 article on the "Scientific American" website, agricultural activity is responsible for about 33 percent of greenhouse gas emissions and 85 percent of water consumption by humans.
Excess Use of Water
Water usage is a prominent illustration of agricultural practices that might periodically conflict with the overall needs of society and local residents. The intensive use of water by high input farming can approach controversial levels, especially in drought conditions such as those experienced in California in recent years. For example, as cited in a February 2014 "Mother Jones" article, agriculture uses 80 percent of California's water. Some individual crops are especially "thirsty." One almond requires about a gallon of water to produce; one tomato needs even more water -- 3.3 gallons. As water supplies shrink in California and elsewhere, both farmers and society are likely to face tough choices.
Chemicals Added to Soil
High input farming typically relies on chemicals such as pesticides, herbicides and fertilizer to increase crop production. Because these materials go directly into the soil, impacts affect the local water table as well as the product itself. Additionally, chemical usage by agribusinesses can harm wildlife and nearby residents. Concerns about pesticides such as DDT were the focus of Rachel Carson's 1962 investigative classic, "Silent Spring," and modern pesticides are still a concern for many consumers. While pesticides are also used in places such as city parks and on private lawns, their use in intensive farming is especially problematic because people eat treated food products.
Limited Availability of Untreated Seeds
Many crop seeds used by agribusinesses come pretreated with herbicides and pesticides. While many farmers would rather use untreated seeds to save money and avoid environmental concerns, current supply and demand forces have resulted in a shortage of seeds without chemicals. Without government regulations and modified practices by seed suppliers, the limited availability of untreated seeds is likely to continue.
Inhumane Treatment of Animals
Industrial animal production involves high concentrations of livestock in limited areas so that the maximum output can be achieved. For example, some animal factory farms have more than a million chickens in a closely confined space. With such conditions, it is often difficult to maintain a healthy environment for the animals. The large amount of waste generated from factory farms can also pollute groundwater near these establishments.