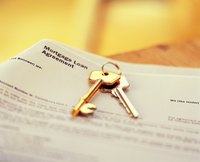 Getting a mortgage means signing a lot of papers. You get copies of all those legal documents at the closing but your lender keeps the originals. While financial experts advise keeping at least one set of all paperwork related to home financing in a safe deposit box, banks employ mortgage custodians to keep a set of hard copies and electronic documents for mortgages they issue.
Using Mortgage Custodians
Lenders are not alone in wanting to protect mortgage documents. Ginnie Mae, Freddie Mac and Fannie Mae want documents for loans they own stored with a mortgage custodian. Any bank or lender that sells loans to these government-sponsored enterprises, or GSEs, must use an approved custodian. A bank can act as a custodian for its own loans, however, if the loans are backed by a GSE, the lender's mortgage custodian operation must follow the federal institution's requirements, such as maintaining a trained staff for custodian duties.
Applying to be a Custodian
Federal institutions require lenders to submit an application with proof of insurance, fire-resistant storage and financial ratings. Once approved as a mortgage custodian, the lender signs a contract and agrees to terms such as separating its banking business from custodian responsibilities, hiring experienced staff and avoiding conflicts of interest. Freddie Mac also expects mortgage custodians to use a vault that meets the Mortgage Industry Standards Maintenance Organization rules for dealing with electronic files.
Meeting Service Requirements
Mortgage custodians verify that loan documents are original, review the terms and confirm the accuracy of information such as account number and borrower's personal data. They must maintain confidentiality, have written procedures to fulfill document requests and limit document access to authorized personnel only. Freddie Mac and Ginnie Mae require unannounced, on-site audits of the mortgage custodian's records, files and procedures. Fannie Mae requires its mortgage custodians to perform quality audits each month in addition to paying for an independent audit each year.
Borrowers and Mortgage Custodians
Lenders give borrowers their mortgage servicer's name, but, due to confidentiality, don't provide mortgage custodian information. Mortgage custodians under contract with the GSEs can't give borrowers information about their loan or documents; they refer borrowers to the loan servicing company that handles borrower payments. A mortgage servicer can request documents on a borrower's behalf. For mortgages financed without federal backing, or mortgage custodianship, borrowers usually call the lender or the servicing company directly for loan and document questions.