Sometimes waking up in the middle of the night can signal that you're body needs something or you need to adjust your nighttime routine. Because the tendency to wake up in the middle of the night can be caused by many things, consider several main culprits of the problem so you can pinpoint solutions.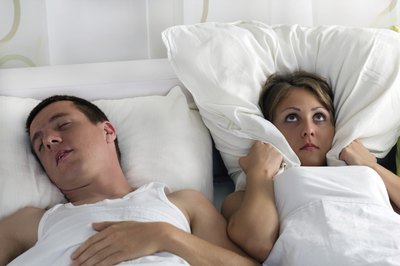 You're Hungry or Thirsty
Sometimes you may wake up in the middle of the night feeling hungry or thirsty. This should signal that your body did not get adequate amounts of food or drink prior to bed. Likely, if you're feeling hunger pangs or a thirst for water, you'll not likely be able to return to sleep before submitting to this urge. Satisfy it by getting up and making yourself something light to eat. Try foods such as warm milk, peanuts and turkey, as they help your body release a natural relaxant called serotonin.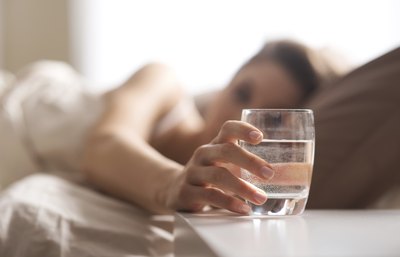 You're Going to Bed Too Early
Often it's thought that if you go to bed early, you get a good night's sleep and wake rested the next day. However, if you go to sleep too early you may wake up at 1 a.m. unable to go back to sleep. This is likely because you weren't that tired when you first fell asleep. To remedy this, go to bed a little later than usual, using that extra time to do something calming, such as meditation, yoga, a bath or deep breathing. This will cause your body to unwind and relax, making sleep easier to attain at that later time.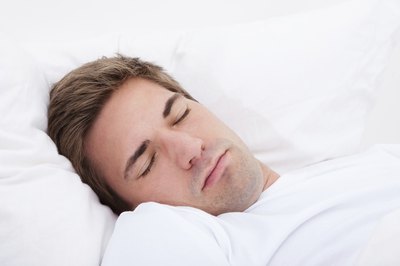 You've Ingested Certain Foods and Drinks
Alcohol may make you feel drowsy enough to fall asleep initially. However, as the alcohol levels in your blood start to decrease, you'll experience stimulation, which is likely to make you wake up. To remedy, avoid drinking alcohol four to six hours before bed time, according to the University of Maryland Medical Center. Certain foods, such as heavy, spicy or sugary foods, can also make it difficult for you to stay asleep. Just like alcohol, avoid intake of these items four to six hours before bedtime. Such foods include peppers, sugary juices and sodas, and fatty fast food items.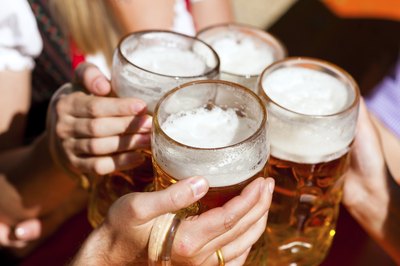 You Have Insomnia
Insomnia is a disorder usually characterized by the consistent inability to fall asleep. However, you may have insomnia if you consistently wake in the middle of the night after experiencing no trouble falling asleep. After waking, you will likely not be able to fall back asleep. With insomnia, you may experience drowsiness, irritability and difficulty concentrating during the day. However, instead of thinking of insomnia as a disorder, think of it more as a symptom of another problem, such as an underlying medical condition, anxiety, like asthma and hyperthyroidism, or persistently drinking too much caffeine during the day. Consult a doctor for a definitive diagnosis. If your insomnia is caused by anxiety, try several stress-reducing activities before bedtime, such as a bath or meditation, in addition to a doctor consult.