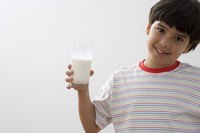 There's a lot of debate about the merits of raw milk versus pasteurized milk. But when it comes to straight-up nutrient content, there's almost no difference. In fact, pasteurized milk may be a better choice than raw milk, especially for more vulnerable groups of people such as pregnant women, children and the elderly, because it's less prone to bacterial contamination.
Calories, Carbs, Protein and Fat
Whether raw or pasteurized, whole or nonfat, you're getting the same amount of calories, carbs, protein and fat in a glass of milk. One cup of milk contains between 80 to 150 calories, 12 grams of carbs, 8 grams of protein and 0 to 8 grams of fat.
For everyone over the age of 2, the U.S. Department of Agriculture recommends choosing nonfat or low-fat milk to limit calories and fat intake. A cup of nonfat milk contains just 80 calories.
Natural Vitamins and Minerals
Both the raw and pasteurized milks are a good source of calcium, meeting 30 percent to 35 percent of the daily value in a 1-cup serving. Vitamin A varies in milk, not because of whether the milk is raw or pasteurized, but because of the fat content. Nonfat milk is not a good source of fat-soluble vitamin A. But whole milk, raw or pasteurized, meets 6 percent to 8 percent of the daily value in a 1-cup serving.
The only significant difference in nutrient content between raw and pasteurized milk is iron. One cup of raw milk meets 4 percent to 6 percent of the daily value for iron, while pasteurized milk contains no iron.
Vitamin D in Fortified Milk
Vitamin D is important for bone health but is found in very few foods. Fortified foods, including milk, are the primary source of vitamin D in the diet in the U.S., according to the Office of Dietary Supplements. Raw milk may not be fortified with vitamin D. However, most pasteurized milk is fortified with the fat-soluble vitamin, with 1 cup meeting about 20 percent of the daily value.
Safety Concerns With Raw Milk
Regular milk is pasteurized -- quickly heated to a certain temperature to kill bacteria, including listeria and the bacterium that causes tuberculosis. Drinking raw milk, which is not pasteurized, ups your risk of food poisoning, which may cause vomiting, diarrhea, fever, abdominal pain or body aches.
While a healthy person may be able to recover from a foodborne illness caused by drinking raw milk, in some people the bacterial infection can be very dangerous and even life-threatening. Pregnant women should not drink raw milk or any foods made with raw milk due to the potential of a listeria infection, which can cause serious harm to the baby.