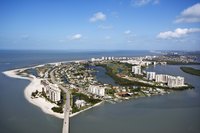 The Florida Keys are a chain of islands that extend over 100 miles from the tip of the Florida peninsula southwest into the Caribbean Sea. This coral archipelago contains thousands of inhabited and uninhabited islands both large and small; each has its own unique character. Many are joined together by the Overseas Highway, which stretches from Key Largo to Key West.
Key Largo
Key Largo is the island closest to the Florida mainland, and also the largest. Many of Key Largo's main attractions are underwater, thanks to the proximity of one of the world's largest living coral reefs -- the John Pennenkamp Coral Reef Park. Visitors to the reef can go snorkeling, take a scuba dive, view the reef through a glass-bottomed boat or simply rent a kayak or paddleboard. In addition, several dive tour companies offer trips out to visit various sunken wrecks offshore. In fact, Key Largo styles itself "The Dive Capital of the World."
Islamorada
Islamorada means "village of islands" and encompasses several small islands just to the southwest of Key Largo, including Plantation Key, Windley Key and Upper and Lower Matecumbe keys. Islamorada particularly prides itself on the quality of its sport fishing and visitors will find dozens of charter boats ready to cater to their desires. On land, hiking trails wind through several state parks including Indian Key Historic State Park and Windley Key Fossil Reef Geological State Park.
Marathon
Marathon consists of the islands of Vaca Key, Fat Deer Key and Grassy Key. Marathon favors a more old-fashioned, family atmosphere compared to other communities in the Keys. Small hotels and inns, waterfront restaurants and plenty of marinas abound. Animal lovers will be particularly interested in visiting the Turtle Hospital and the Dolphin Research Center.
The Lower Keys
Big Pine Key, Sunshine Key, Looe Key, Little Duck Key, Summerland and Sugarloaf are just some of the islands that make up the Lower Keys region. The Lower Keys are largely undeveloped and wildlife-friendly. The National Key Deer Refuge can be found on Big Pine Key. The six-day-long Winter Star Party attracts hundreds of astronomy buffs annually to Big Pine, drawn by the relative lack of artificial illumination that leaves the stars extra bright.
Key West
Key West sits at the tip of the Florida Keys, only 90 miles from the shores of Cuba. Key West is filled with sites of historical interest, including the houses of literary giants Ernest Hemingway and Tennessee Williams as well as a vintage lighthouse. The city of Key West -- particularly the historic district -- is filled with open-air cafes, street performers, nightclubs, restaurants and art galleries. Cruise ships regularly come to call here as well.