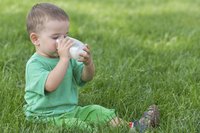 For toddlers, cow's milk is an important source of protein, fat and calcium. If your toddler can't tolerate cow's milk, it's important to find a suitable replacement to make sure he gets the nutrients needed for growth and development. Discuss milk alternative options with your pediatrician before making any changes.
Soy Milk
When looking for alternatives to cow's milk for your toddler, soy milk makes a good choice. Soy milk is rich in protein, with 7 grams per cup, compared to 8 grams in the same serving of whole cow's milk. To make sure your toddler is meeting her calcium needs, use brands fortified with the mineral as well as vitamin D, which helps the body absorb calcium. Although it's not as high in fat as whole cow's milk, if your toddler is under the age of 2, use full-fat soy milk to help meet his fat needs.
Goat's Milk
Goat's milk has a similar nutritional profile to cow's milk and is a good source of both protein and calcium. Also, it is only available as a whole-fat milk and is a good source of fat for toddlers 2 years and younger. Goat's milk contains less lactose than cow's milk and may be easier to digest for toddlers with lactose intolerance, says MedlinePlus. However, if your child has an allergy to cow's milk protein, goat's milk is not a good substitute, according to Food Allergy Research and Education.
Oat Milk for Older Toddlers
Grain-based oat milk may be suitable for toddlers over the age of 2 years, according to dietitian Ruth Kershaw from the Infant and Toddler Forum. Made from oats, the grain milk contains some fat and protein -- 2.5 grams and 4 grams per cup, respectively. To make sure your toddler is getting the nutrients needed for normal growth and development, use fortified brands.
Milks That Don't Work
Some milk alternatives may not be suitable for a toddler because they lack essential nutrients. Rice milk, for example, is not a good source of protein or fat and is not recommended for toddlers, according to the Women's and Children's Health Network. Coconut milk is also not suitable, but it's safe to use as an ingredient in cooking.
Other Sources of Protein and Calcium
If your toddler cannot tolerate cow's or soy milk, you need to find alternative sources for both protein and calcium and may benefit from a referral to a registered dietitian. Meats and eggs can help meet protein needs, while greens and fortified cereals may help fulfill your child's calcium needs.