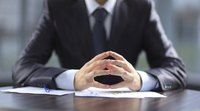 Leaders in businesses are called executives. Most companies have one primary leader and multiple leaders who operate different divisions or departments. These individuals are often the executive management team. They run the company by developing various strategies to increase sales and profits. Most company leaders or executives have bachelor's or master's degrees in business as well as many years of experience. They can earn hundreds of thousands of dollars per year.
Chief Executive Officers
Leaders who are at the top of organizations are often called chief executive officers or CEOs. A CEO is usually a member of a company's board of directors. The board is a team of business professionals who oversee a company's operations. A CEO's primary responsibility is to make sure a company meets its sales and profit goals. Additionally, CEOs must oversee the safety and concerns of the public, and run their companies fairly and legally. CEOs also oversee the work of other company executives. Some CEOs also hold president titles, which is more common in smaller companies.
Chief Marketing Officer
Chief marketing officers, or CMOs, usually oversee functions such as sales management, product development and marketing communications. Marketing communications can include visual aids such as brochures, company manuals or advertising. They also oversee the pricing and distribution of products, as well as marketing research and public relations. CMOs can also go by titles such as senior vice president of marketing or marketing vice president. They usually oversee various directors, including those running functional areas such as brand, marketing research and advertising.
Chief Operating Officer
Chief operating officers, or COOs, run the operations of businesses. Operations pertain to systems companies use to produce or deliver their products. For example, a COO may oversee plant operations in a manufacturing company, ensuring the efficiency of workers and quality of products. COOs also oversee the costs of resources used in producing products. For example, they may work with production managers or directors to keep production costs in line with budget. COOs also oversee the design and maintenance of facilities, including offices, plants or restaurant units. COOs may also hold titles such as senior vice president of operations.
Chief Data Officer
Chief data officers, or CDOs, oversee all database management functions. Database management pertains to confidential information that companies maintain in computer databases. This information can include product details such as make and model, lists of customers and financial details, including income statements and balance sheets. Company data can be highly confidential. Therefore, CDOs must ensure their companies use the most effective data storage mechanisms and security systems. Data storage pertains to database software programs that can store large amounts of data. Security systems include firewalls and virus protectors, which prevent information from being stolen through the Internet.