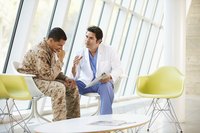 Military doctors are commissioned officers who serve in the ranks of O-1 (Lieutenant) through O-10 (General). Doctors in the military are required to complete the same schooling and training that civilian doctors complete. Military officers receive basic pay for performing their job duties and military duties, and allowances for housing and meals. They also receive special pay and allowances. Military earnings are set forth by the Defense Finance and Accounting Service in Military Pay Charts and approved by Congress.
Basic Pay
Basic Pay is based upon two factors: the doctor's military rank and the amount of time the doctor has served in the military. Basic Pay as of 2014 ranges from $2,905 per month for an O-1 Lieutenant with less than two years of military service, to $19,763 for an O-10 General with more than 40 years of military service. Officers are not required to retire at 20 years of service; they may serve longer if they wish.
Housing
Officers receive a housing allowance known as BAH, or Basic Allowance for Housing, as long as they live off-base or off-post. This entitlement is based upon the city and state where the officer resides. BAH rates range from a low of $864 per month in Boise, Idaho to a high of $3,744 per month in New York City.
Meals
Doctors who live off-base or off-post also receive money to help offset the cost of their food and other incidentals each month. This allowance is called BAS (Basic Allowance for Subsistence) and is paid to officers in the monthly amount of $246.24.
Wartime Pay
Doctors receive additional allowances while deployed to combat zones, just as other military members do. Hazardous Duty Pay is an extra $150 per month and Hostile Fire Pay is an additional $225 per month. In addition, doctors who have families receive an extra $250 per month in Family Separation Pay.