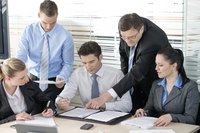 Project appraisal is a key element of project management. The project sponsors look at various aspects of the project to decide whether it should proceed. They consider factors such as outcome, feasibility, use of resources, funding, management requirements, payback and sustainability. In a situation where sponsors are considering a number of projects competing for the same funds, the chosen project must demonstrate that it delivers the best outcome for the most effective use of resources.
Efficient Use of Resources
Projects use limited resources such as money, manpower, materials and time. Project appraisal ensures that a project is using those resources effectively. According to consultant Kostas Sillignakis, the decision on whether a project goes ahead is really "a choice between alternative ways of using resources."
Key Factors to Consider
Project appraisal takes into account all the costs and benefits of a proposed project. Costs to consider include the start-up costs for the project, the ongoing costs required to keep the project going, and any "end-of-life" or shutdown costs that may be required if the project is of a finite length. Benefits are usually measured in the profit that accrues to the organization, but can also include such things as an improved reputation, enhanced customer service or increased morale among the staff. Project appraisal often looks at external impacts as well, such as the project's effect on the environment or the economy.
Appraisal Model
The larger the project, the more complex the appraisal process. The European Investment Bank has developed a model that ensures sponsors appraise all aspects of a project thoroughly. The main elements of the model include: eligibility by meeting important criteria, such as regeneration or environmental protection; investment cost in terms of cost justification; economic viability in terms of payback period and cost effectiveness; and promoter's standing in relation to financial robustness and management capability.
Ensuring There Are Benefits
Any project must be expected to deliver benefits, or there's no point in pursuing it. The appraisal team assesses the project to see whether it will succeed in delivering outcomes that meet the original objectives. Britain's New Deal for Communities program manages a range of projects aimed at regenerating areas of social or economic deprivation. Their project appraisal considers factors such as value for money, piloting new ideas, involving the local community in project development and delivering planned outcomes.
Calculating Payback Periods
Finance is an important consideration in project appraisal. The European Investment Bank assesses the rate of return on a project, the phasing of expenditure and financial risk in terms of possible cost variations. According to Sillignakis, sponsors rank projects with shorter "payback" periods higher than those with longer paybacks. This is based on the assumption that a short project involves less financial risk and also allows the sponsor to reinvest funds in other projects more quickly.