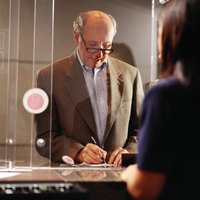 Many bank fees penalize customers for making mistakes, such as overdrawing their account. In the case of an inactive account or dormant account fee, however, the bank charges customers for doing nothing. An account with no deposits, withdrawals or payments processed during a prescribed period may result in inactive fees being assessed against it.
Bank Rules Vary
The amount of time an account can be inactive before a fee is charged varies, but many don't start assessing such charges until six months to one year go by with no transactions in the account. Even then, banks won't always assess inactive fees. Many won't charge customers if the account remains over a certain balance or if the customer has other accounts at the bank. Once a bank assesses an inactive fee, it can continue to do so each month until the account is brought back to active status, has no funds remaining or is subject to state abandoned property laws.
Avoiding Charges
Avoiding inactivity fees is simple: Just make sure you make a qualifying transaction every few months. Keep records of the accounts you have and where they are to avoid forgetting about one and allowing it to go unused. If you have an account at a bank that's too inconvenient, such as one near a former address, consider closing the account and moving it to a bank in a more convenient location.