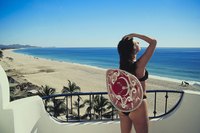 With elevations ranging from 276 feet below sea level to nearly 14,500 feet within the space of 85 miles, California has some of the most varied climates in the country. Stay warm in the southern part of the state, where you'll find climates ranging from desert to Mediterranean.
Orange County
If winter vacation includes a trip to Disneyland, Knott's Berry Farm or other Orange County venues, you might want to bring at least one pair of shorts. Daytime highs average in the low to mid-70s, but days above 75 degrees are not uncommon. If the warm weather has you baring skin that hasn't seen daylight since summer, be sure to use sunscreen to avoid a painful burn. Long pants and a lightweight jacket feel good in the evening, when temperatures dip just below 50 degrees. Winter storm systems bring rain, not snow, to the area, but temperatures sometimes dip down as far as the freezing mark.
The Los Angeles Area
Temperatures in the 90s are uncommon but not unheard of during the winter months in LA. More often, days average in the high 60s and low 70s, making it ideal to get out and see the sights. Stroll down the Hollywood Walk of Fame, see movie star mansions in Beverly Hills or visit area amusement parks such as Universal Studios. You'll want to bring a wrap for the evenings, however. While temperatures don't usually dip down much below 50, the moist coastal air moving inland creates a bit of a chill.
The Central Deserts
In the center of Southern California, inland deserts bring low humidity and warm daytime temperatures in the mid 60s. Whether you want to play a round of golf in Palm Springs, climb rock monoliths at Joshua Tree National Park or sail the Salton Sea, you'll enjoy mostly sunny skies and little rainfall. Temperatures can vary by as much as 30 degrees on any given day, and cold desert nights dipping down to freezing are not uncommon.
The Southern Coast
Don your movie star shades and head for the coast between Santa Barbara and San Diego, where you can bask on the beach in daytime temperatures ranging from mid 60s to low 70s. Beaches with the warmest temperatures include Avila Beach near San Luis Obispo, Long Beach near LA and Laguna Beach south of the city. If you plan to take the "Polar Plunge," you'll find the warmest water temperature in San Diego Bay, averaging a nippy 59 degrees in January.