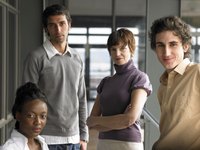 "Synergy" is a ubiquitous word in the 21st century. Simply defined, synergy constitutes a mutually advantageous relationship. Synergistic, the adjectival form of the word, describes systems or relationships in which synergy exists. The term appears in texts from almost every academic discipline imaginable, including anthropology, economics, chemistry, biology, political science and business. Though most commonly applied to business, the term "synergistic relations" has a broad spectrum of uses and appears in a variety of sources.
Synergistic Relations
A synergistic relation constitutes any relationship in which two or more parties work together for the benefit of all parties involved. This term appears in a broad range of literature and describes myriad relationships, from those existing between muscles and nerve groups to those found in local neighborhood governance systems in 21st century China. Most commonly, however, synergist relations describe business relations and those regarding teams. As a modern business term, "team" denotes a group of people working for the same company or the same department of a company, thus forming a team, or a unit with a group of shared goals and purpose.
Synergy Within Teams
Synergistic relations within teams occur when every member of a team contributes something positive toward meeting an end goal. End goals in business usually occur in cycles such that the ultimate goal is to continually achieve new goals. In business model and theory that praises positive reinforcement and incentive-driven team and team member performance standards, synergistic relations entail the most cost-effective, efficient and business-savvy means of management. Synergistic team relations in business exist everywhere, from finance departments in large corporations to cashier teams at the local supermarket.
Creating Synergy
Synergistic team relations do not arise automatically within business situations, and in many ways are at odds with the competitive nature of business. Management personnel and human resources departments create synergistic team relations. The process begins with hiring employees. To create synergy, management and HR must hire employees not simply based on individual credentials, but on a candidate's ability to work as a member of a team and to work with other employees already on that team. HR and management must create a system of incentives that encourage employees to work together using things like bonuses. Finally, HR and management use team-building exercises to create a greater sense of unity, companionship and personal responsibility among team members.
Synergy Across Teams
In the infinitely fractured business and media climate of the 21st century, synergistic team relations often occur not only within teams, but also across teams. For instance, if a business creates a marketing relationship with bloggers to spread positive publicity about a product, that team of bloggers receives financial remuneration and potentially increased exposure from the deal, while the company receives advertising and product awareness. Thus, a mutually beneficial relationship exists. Many 21st century corporations own multiple business ventures that cross-promote one another through synergy, such as product placement in films or music videos.