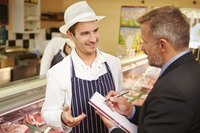 Nontraditional funding is a broad term used to describe financing -- especially for entrepreneurs, start-ups and struggling individuals -- that does not come from conventional sources. In many cases, conventional lenders will refuse to finance a person or business. They choose to not make loans because the risk is too high. Investing in a start-up is a very risky move for a lender, as is giving a loan to a borrower with bad credit. These borrowers often have no other choice but to save money themselves or turn to nontraditional funding.
Definition
Nontraditional funding comes from sources outside major lending institutions such as banks and credit unions. Nontraditional lenders can be investors, small organizations, family or even the government. Entrepreneurs may also be able to seek nontraditional funding through alternative transactions that raise funds directly without incurring debt. These funds provide necessary capital for starting a business, buying resources and beginning or continuing key operations during difficult times.
Asset Financing
Asset financing occurs when an entrepreneur or business sells an asset in order to raise money. This is nontraditional funding, since asset sales are rarely used to finance the business and the action is not necessary for more stable businesses. Entrepreneurs must make a choice to sell either personal assets, like property and investments, or assets that belong to the business, like equipment and vehicles. Some entrepreneurs also can sell rights to the business through franchising or licensing.
Debt Financing
Debt financing is a more common nontraditional funding method. Basically, any unusual loan counts as a nontraditional way to fund a business. An entrepreneur might take out a second mortgage on a house and use it for the business -- a nontraditional application of home loan funds. Business owners also can acquire financing from individual lenders and investors who seek to loan money to businesses they like when banks will not consider making the same loan.
Considerations
There is a cost to using nontraditional financing. Entrepreneurs must sell assets if they do not want to go into debt, but some assets may be needed to run the business or complete necessary tasks, leading to difficult decisions. Nontraditional lending often involves much higher interest rates than do conventional loans. Nontraditional lenders also often require unusual forms of collateral, such as shares in the business or a position as consultant or partial owner in the business.