With a toddler's growing independence and need for control, getting him to eat a variety of foods -- and get enough iron -- can be a challenge. In general, most liquids are not a good source of iron, but some foods even a picky toddler might eat are. Consult your toddler's pediatrician to discuss iron and diet.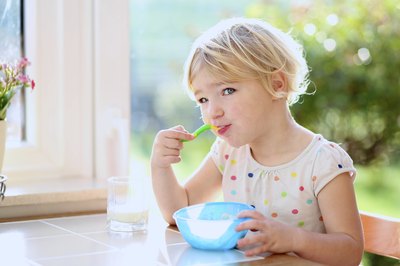 How Much Iron
Toddlers need enough iron in their diet to make hemoglobin, which is in red blood cells that carry oxygen to all the organs and tissues in the body. Not getting enough iron can also affect a child's growth and development.
Based on the recommended dietary allowances, children ages 1 to 3 needs 7 milligrams of iron a day. If your toddler follows a vegetarian diet, she needs 1.8 times more iron than the RDA, or 12.6 milligrams, due to the decrease in availability of iron in plant foods compared to animal foods.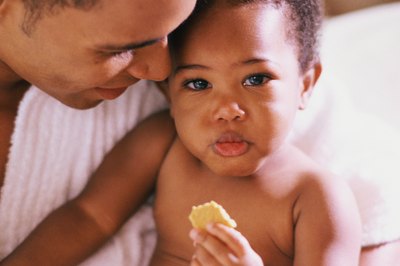 Animal Sources of Iron
The form of iron in animal meats, heme iron, is absorbed better than the iron in plant foods. Good animal sources of iron for a toddler include lean meats, dark meat poultry, tuna, salmon and eggs. Since toddlers don't need to eat as much as you, limit their meat portions to 1 ounce to 2 ounces at a time, and cut meat into bite-size pieces.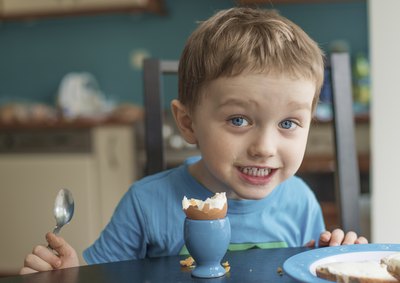 Plant Sources of Iron
Many toddler-friendly plant foods are high in iron. Good sources include beans, tofu, enriched breads, pastas and grains, fortified breakfast cereals, leafy greens and dried fruit. To improve the absorption of iron in plant foods -- nonheme iron -- include foods rich in vitamin C. For example, offer sliced strawberries or orange segments with breakfast cereals, crunchy green and red pepper sticks as a side dish with a pasta lunch or steamed broccoli florets with a rice and bean dinner.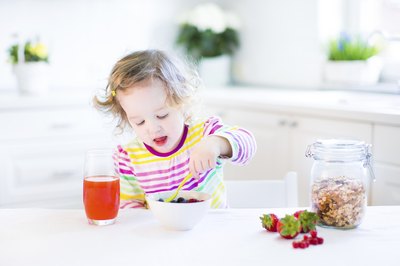 Not Too Much Milk
Milk is certainly an important part of your toddler's diet, but drinking too much can increase the risk of iron deficiency, according to KidsHealth. You should limit your toddler's milk intake to 24 ounces a day. Milk is not a good source of iron, and when toddlers drink too much they may not have an appetite to eat foods that are iron-rich. Also, milk decreases iron absorption.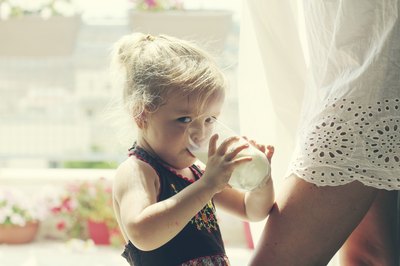 What About Iron Supplements
Your pediatrician may recommend an iron supplement to help improve iron and blood levels in your toddler. If you're given a prescription for iron, be sure to give the exact amount as recommended by your pediatrician. Too much iron can be dangerous to a young child. Keep the bottle out of reach.
Give the iron supplement on an empty stomach or with a small amount of vitamin C-rich food or drink. It can take up to six months of treatment for blood levels to get back to normal, says KidsHealth.