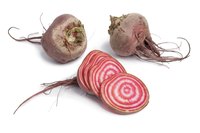 Chioggia beets, also known as candy stripe or candy cane beets, are characterized by their sweet flavor and their pink- and white-striped flesh. Native to Italy, Chioggia beets and their green, leafy tops can be prepared in the same way as any other beet variety. Try them raw or roasted in salads or slaws, use them as a base for vegetable soups like borscht, or pickle and serve them as a side dish for grilled poultry or seafood.
Low in Fat and Sodium
Many of the nutritional benefits of Chioggia beets revolve around what they don't contain. A serving of 2 1/2 small Chioggia beets has only 40 calories and no fat, saturated fat or cholesterol. They are also low in sodium, with 30 milligrams per serving, an amount that's only 1 percent of the 2,300-milligram daily limit recommended for most healthy adults and 2 percent for those on a sodium-restricted diet.
If you substitute beets prepared with little fat and seasoned without salt for less healthy foods in your diet, they may help you lose weight and decrease your risk of heart disease, stroke and high blood pressure.
High in Fiber
Most of the carbohydrates in Chioggia beets are supplied by sugar -- about 10 grams per serving. Because of this, beets' glycemic index is moderately high at around 64, meaning that they may cause larger shifts in your blood sugar level than low-glycemic index vegetables. However, Chioggia beets are also high in fiber, with 2 grams per serving, or around 6 percent of the recommended daily intake of fiber for a man between 31 and 50 years old and 8 percent of the amount advised for women of the same age.
As long as you eat the beets in moderation as part of a overall balanced diet, you'll get the benefits of their fiber without altering your blood sugar excessively.
Rich in Antioxidant Compounds
The red color in all beets, including Chioggia beets, comes from a pigment known as betacyanin. A study published in 2001 in the Journal of Agricultural and Food Chemistry reported that betacyanin contains compounds called betalains that have strong antioxidant properties. Later research, published in 2011 in Anti-Cancer Agents in Medicinal Chemistry, concluded that one of the betalains in beets, betain, may be effective at killing cancer cells, though more studies are needed. Other antioxidants in beets, such as vitamin C, flavonoids and polyphenols, may also help prevent diabetes.
Contains Oxalic Acid
Chioggia beets -- and all other beet varieties -- are rich in oxalate compounds. Oxalates can block your ability to absorb nutrients like calcium and may increase your risk of developing kidney stones, especially if you already have a history of stone formation. You may need to avoid Chioggia beets if you have kidney stones; consult your doctor.
If you don't have kidney stones, but you're concerned about oxalates in your diet, avoid eating raw beets in favor of boiled or steamed beets. Boiling reduces the oxalate content the most, but water contact will also cause the vegetable to lose other nutrients.