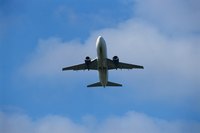 Many factors come into play in setting company strategy for the Boeing Company. One of the largest such factors is the company's relationship with the U.S. Department of Defense, as military spending affects half of the company's sales. Another major element of Boeing's business is commercial aviation, which brings a broad range of economic variables into consideration as the company develops plans to meet the needs of international air traffic. Boeing must also monitor new competition that could challenge its position.
Military Spending
According to the Washington Post, Boeing is one of the largest defense companies in the world, with most of its profits since 2000 coming from military products. Boeing must consider not only the Defense Department's needs and lock in long-term profitable contracts, but also what other defense contractors are willing to bid on contracts. Within the arena of military manufacturing, Boeing must specialize to some degree to ensure that it's the preferred or only choice when new contracts are awarded.
The Economy
When the economy faltered in 2008, air travel declined, according to Forbes Magazine. Aircraft demand and design is affected by the economy. High fuel prices influence aircraft design, pushing more fuel efficient engines and lower weight composite materials. Boeing must adjust production strategy and even capacity to maintain profits and shareholder value. At the same time, Boeing must be able to increase production when the economy improves or lose sales to other companies.
Airbus
Many of Boeing's customers compare Boeing aircraft with those manufactured by Airbus, its largest competitor in the commercial aviation market. According to Forbes, Boeing has adopted a strategy of producing aircraft that offer lower fuel and maintenance costs to compete with Airbus platforms. Boeing must also consider that some of its customers will not want to buy aircraft from just one company.
New Competition
Much of the growth of commercial aviation in the next decade is expected to be in Asia -- particularly China, which is already ramping up to enter the commercial aviation marketplace currently dominated by Boeing and Airbus. According to the Washington Post, Comac, the Commercial Aircraft Corp. of China, will enter the market in 2016 with the C919, a jumbo jet the Chinese plan as their maiden product. Comac will compete with Boeing and Airbus first in China, but the company has already announced that it's entertaining enquiries from other potential customers in Europe. Comac's entry into the marketplace, together with several other startup aircraft manufacturers, adds another layer of considerations to Boeing's strategic planning.