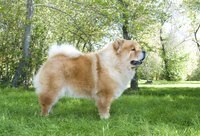 You might think of the chow chow breed as aloof or even menacing, but the reality is that they make good pets. They often become quite devoted to one particular family member. As with any breed, it's important to understand temperament and health needs before you decide to open your home to a chow chow as a pet.
Chow Chow Origins
Commonly known as "chows" but officially named "chow chows" by the AKC, the breed is known to have existed for more than 2,000 years. Early chow chows lived in China and Mongolia and worked as hunting and guard dogs for their owners. They still make excellent guard dogs, whether they're guarding family, property or farm animals. Chow chows entered England in the late 1800s and shortly thereafter were introduced to the United States, where they were popular in the 1920s. President Calvin Coolidge owned one.
"Chow chow" was the Chinese term 18th-century British merchants used to classify miscellaneous items in a ship's cargo -- including dogs. The breed eventually became known by that name. Most people and even the Webster's New World College dictionary call them chows; the AKC officially calls them chow chows.
Appearance and Size
The chow chow has a large head and small ears, which makes the dog look a little like a teddy bear. A chow's coat can be smooth or rough. Thicker hair around the head and neck forms a mane. Coat colors vary, but black, cream, red, cinnamon and blue are common. If you're not sure whether an adult dog is a chow or another breed, check the tongue. Adult chows are born with pink tongues that gradually darken and become bluish-black over the next two months. Chow chows stand 17 to 20 inches tall at the shoulder and weigh 40 to 70 pounds.
Behavior and Temperament
Chow chows like being around people, but they generally aren't comfortable being handled. These dogs usually become very close to one person in the family, although they'll gladly spend time with other family members. Because chows don't like being handled, they're not a good choice if you have young children.
A chow chow can make a good family dog as long as older children know not to bother or tease the dog. A chow's instinct to guard his family is strong, and he may be suspicious or aggressive around strangers or other dogs. Obedience training and socialization will help a chow learn how to behave appropriately around people and dogs.
Common Health Problems
Some chow chows develop hip dysplasia, an inherited condition that occurs when the hip joint doesn't develop correctly. Because of this deformity, the femur doesn't fit firmly in the joint and rubs against it when the dog moves, causing pain. Arthritis and lameness can be a problem for specimens with hip dysplasia.
Chows also might develop entropion, a condition that happens when part of an eyelid folds inward; problems with elbows and knee caps; thyroid conditions; skin cancer; and gastric torsion, a life-threatening condition that occurs when the stomach twists after filling with gas.