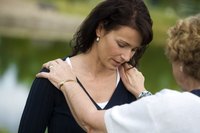 Grief assessment tools are pen and paper or computer-based tests administered to individuals that have recently experienced or anticipate a loss. These tests are used to briefly examine the extent or nature of bereavement and outcomes related to the mourning experience. Many of these tests are not in the public domain, which means that they must be administered by a trained professional.
Grief Evaluation Measure
The Grief Evaluation Measure, or GEM, is a testing instrument used to measure the intensity and complications of grief in the bereaved adult. The test is comprised of seven parts designed to focus on potentially problematic areas. These areas include risk-taking behaviors, previous loss, medical history, physical symptoms, coping resources available before and after bereavement and a section on events and circumstances surrounding the loss.
Texas Revised Inventory of Grief
The Texas Revised Inventory of Grief, or TRIG, is a popular assessment choice among professionals. This tool is administered via pen and paper and is broken down into two distinctive parts. The first section pertains to past behaviors and the ability to maintain daily living tasks following the loss of a loved one. It is geared toward reflection, on how the loss impaired coping shortly after the event occurred. The second section pertains to emotional feelings experienced in the present. Many of the questions on this section are used to identify current mental roadblocks that may be impeding the ability to find meaning in the loss and make future plans.
Inventory of Complicated Grief-Revised
The Inventory of Complicated Grief-Revised, or ICG-R, is an important assessment tool used to identify considerable emotional and physical pain attributable to the loss of a loved one. Symptoms of this nature can range from ruminative thoughts to unexplained aches and pains. This type of grief can lead to disabling health conditions if not treated appropriately. The Australian Government Department of Health and Aging suggests using this measure when symptoms of emotional and physical pain persist beyond six months after the loss and when the symptoms are so severe that the individual is dysfunctional in most areas of daily living.
Perinatal Grief Scale
The Perinatal Grief Scale, or PGS, is a 33 item pen and paper questionnaire for parents, as it relates to the loss of a child. There are three sections consisting of 11 questions each. The three sections examine the grief experienced in the present, the difficulties experienced when coping with the loss, and overall feelings of despair, fear, hopelessness and dysfunction in fulfilling daily activities. This test is commonly administered to bereaved parents in hospitals by nurses or social workers.