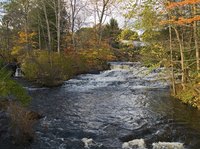 If you live much farther than the New York-New Jersey or Philadelphia metro areas, a big-city escape in the secluded mountain retreat of the Poconos is just a plane ride away. Local airports for travelers yearning to see the brilliant fall foliage or the area's 150 lakes include options for private planes, those seeking a small airport with a few big carriers and those who want full international-airport service.
Pocono Mountains Municipal Airport
If you're piloting a small plane or taking a charter flight, descend right into the heart of the region at the Pocono Mountains Municipal Airport. Conveniently located off Interstate 380 just north of the junction with Interstate 80, and next to the small town of Pocono Summit, the airport's runways open at 7 a.m. and close at 5 p.m. unless after-hours arrangements are made. Gas and heated hangar spots are available. The airport can also arrange for Enterprise rental car service, or you can use one of the area's limousine or taxi services.
Wilkes-Barre/Scranton International Airport
Touch down on the northwest edge of the region, less than a 45-minute drive from many Poconos destinations, at the Wilkes-Barre/Scranton International Airport. The airport is serviced by United Airlines, Delta, Allegiant and US Airways, with nonstops to cities such as Chicago, Atlanta, Detroit and, for snowbirds wanting to flee Pennsylvania for a bit, Orlando. A Frequent Parking Program is offered to frequent fliers, and all travelers can enjoy free WiFi in the terminal, a restaurant and bar, a gift shop, pay massage chairs, courtesy phones that link you to area hotels and several rental-car companies. Take Interstate 380 or Interstate 84 into the Poconos, depending on your destination.
Lehigh Valley International Airport
Start your mountain getaway just about an hour south of the Poconos at the Lehigh Valley International Airport, just north of Allentown and Bethlehem. From the Lehigh Valley Thruway, Route 22, Pennsylvania Route 33 provides a quick scenic path into the mountains. Delta, US Airways, Allegiant and United connect to larger hubs in Philadelphia or Newark, and also fly directly to cities such as Charlotte, Chicago and Atlanta. Passenger amenities include a pub, multiple car-rental agencies, and bus service to both local stops and big business and tourist destinations such as New York City and Atlantic City. Preferred parking puts you incredibly close to the terminal, but you'll find all parking distances and security lines relatively short at this compact airport.
Newark and Philadelphia International Airports
To start your rural retreat in an urban center, the closest bet is Newark Liberty International Airport in neighboring New Jersey. The distance to Poconos destinations from here ranges from about an hour and a half to two hours by car. The advantage to possibly having to fight some traffic on your way to Pennsylvania is the wide selection of airlines and flights at this regional hub. More than 30 carriers operate out of Newark, including some international airlines such as Air India, Lufthansa and El Al. There's a hearty selection of restaurants both before and after the security checkpoints, along with duty-free shops, newsstands and currency exchanges. You can also choose to fly into Philadelphia International Airport, about two and a half hours south of the Poconos. Major American carriers service Philadelphia, along with international airlines such as Air Canada, British Airways and Qatar Airways. Food and shopping choices are extensive, or swing through downtown Philly for an authentic cheesesteak on your way to or from the airport.