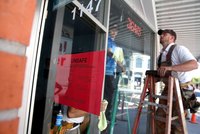 Disasters call for swift, coordinated responses by emergency crews. To streamline procedures, many departments and organizations use color-coded tags to quickly relay information to other responders. Some of these tags are triage tags, used to indicate the severity of the need for medical treatment. Other color-coded tags can be used to separate unsafe buildings from safe structures, giving owners and occupants an easy way to tell if they can go back inside.
Triage Tags
Emergency workers quickly identify and sort those who need medical treatment after a disaster by using triage tags, which are tags with multicolored ends and checklists. The exact colors vary from tag to tag. However, some colors are fairly universal in meaning. For example, a black tag means that the person is dead, red means the person has injuries that need immediate attention, white indicates that no treatment is needed, yellow means the person does need treatment for moderate but not life-threatening injuries and green shows that the person has only minor wounds.
Building Tags
Another colored-tag system you'll see after a disaster is for building habitability. Inspectors looking at structures after events such as earthquakes and landslides will issue a red, yellow or green tag to show the structure's status. Red-tagged buildings are either unsafe for people to be in or may become unsafe in the near future, yellow-tagged structures are fine for limited access and green-tagged buildings are safe. Note that these codes apply to the basic structural integrity only. A green-tagged building, for example, can still have extensive cosmetic and internal damage such as toppled appliances, which would make living in it uncomfortable.