Reba McEntire's popular country song, "The Greatest Man I Never Knew," tells the story of a woman not only grieving the loss of her father, but also the loss of the close relationship they never had. Sadly, these sentiments extend past the lyrics of a sad country song into the reality of women everywhere who live without the benefits of a strong father-daughter bond. One of the best ways to grow and strengthen your relationship with your daughter is to spend time together doing activities that encourage communication and deeper understanding of each other.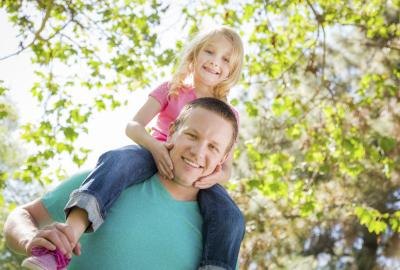 (Feverpitched/iStock/Getty Images)
Dr. James Sterling, a doctor on the psychiatry staff at Mount Sinai Medical Center, lists healthy adult relationships, self-confidence, independence and motivation among the many benefits that adult women can gain if they grow up with active and present fathers in their lives. Jump-start these benefits by sharing a hobby with your daughter. Collect stamps, antiques, books, coins and other items to foster co-learning as well as shared experiences. Playing or watching sports games appeals to both athletic daughters and those more likely to cheer, spectate or people-watch. Choose a lifetime hobby that can adapt to your daughter as she matures. For example, cooking can begin with creating brownies from a mix with your toddler to attending a cooking class with your teenager and on to co-hosting a dinner party with your adult daughter.
pojoslaw/iStock/Getty Images
Daddy-daughter "dates" show her she's your priority and give her the personal attention she craves. Take your daughter to dinner, out for ice cream or to a museum; alternately, plan a neighborhood walk or bike ride. Build anticipation by formally asking for her company and marking your dad/daughter night on your family calendar. Whatever your chosen activity, keep your phone on silent to ensure unencumbered communication and memory-making. Even grown-up daughters appreciate father-daughter nights. Ken Canfield, author of "Seven Secrets of Effective Fathers," emphasizes that the benefits of a daddy-daughter bond are not only generated through childhood but in adulthood as well.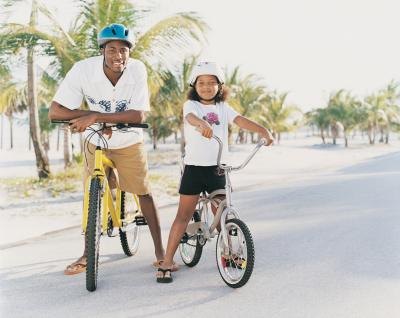 Digital Vision./Photodisc/Getty Images
Not every father-daughter activity needs to include a large amount of planned time or money. Reading is a free activity that you can do for just a few minutes a day with the added advantage of reaching into other activity opportunities. A trip to the library doubles as father-daughter night, while a book highlighting a mutual interest offers more insight for shared hobby time. To hold your young daughter's interest, choose age-appropriate books with enriching vocabulary words and interesting plots. Discuss the book after every reading session to encourage critical thinking and communication skills. Dads of adult daughters can join or host a book club together or share time reading in your local bookstore -- coffee included.
altrendo images/Stockbyte/Getty Images
While long vacations away from the rest of the family and taking time off work are generally not feasible for one-on-one activities, an annual father/daughter day or weekend trip is a realistic tradition your daughter can enjoy through adulthood. Hiking, camping or fishing trips appeal to nature-lovers, while visits to historical sites and notable cities appeal to girls who appreciate culture and history. Remember that travel time counts as bonding time, too. Let conversation flow naturally as you enjoy the scenery together; take turns controlling the radio or sound system during road trips. Laugh, connect and communicate.
XiXinXing/iStock/Getty Images
Promoted By Zergnet