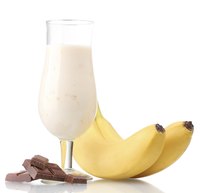 Anxiety causes your body to increase production of cortisol and other stress hormones. Stress-reducing foods contain nutrients that reduce levels of stress hormones, stabilize your moods, improve your ability to cope with anxiety-producing situations, decrease elevated blood pressure and lower your risk for stress-related health problems. Nature provides the most potent calming foods. Don't wait for stress to strike; add some of these foods to your diet and enjoy their calming effect.
Bananas
Bananas help your body produce the hormones serotonin and melatonin. Serotonin calms the brain and helps relieve stress by promoting relaxation, while melatonin produces a relaxed, sleepy feeling. Other nutrients in bananas known to produce a natural calming effect include magnesium and vitamin B6, according to nutritionist Denise Kennedy, on her website, Naturally Nourishing.
Green Tea
Green tea contains theanine, an amino acid known for its natural calming effect. According to Lisa Drayer, R.D., theanine may also mitigate the affect of caffeine in green tea. Caffeine produces a stimulating effect, which increases the body's stress response. Green tea blocks caffeine's effect and promotes relaxation.
Dark Chocolate
Chocolate's natural calming effect makes it more than just another delicious treat. A two-week study involving 30 participants with high- and low-anxiety levels published in October 2009 in the "Journal of Proteome Research" reports that dark chocolate soothes and relaxes you. Dark chocolate reduces blood levels of the stress hormones cortisol and the catecholamines, dopamine, norepinephrine and epinephrine. Your body produces these hormones during physical or emotional stress and excretes them into your urine. After two weeks of eating 40 grams -- about 1.5 ounces -- of dark chocolate each day, the "high anxiety" study participants showed reduced levels of stress hormones excreted in their urine, which indicates its effectiveness for inducing relaxation.
Fish and More
Your body responds to anxiety by producing the stress hormones cortisol and adrenalin. According to West Virginia University's "Wellcare Monthly" newsletter published in April 2014, eating walnuts and fatty fish, such as salmon, sardines and tuna, helps reduce production of cortisol and adrenalin. Other omega-3 sources include Brussels sprouts, cauliflower, kale, spinach, tofu, vegetable oils and flaxseeds.
Yogurt
Nutritionist Carolanne Wright, in an article appearing in NaturalNews.com, discusses how stress affects your gut, causing stomach distress. Lactobacillus bacteria found in yogurt, kefir, miso, tempeh and fermented vegetables, such as sauerkraut, can reduce anxiety. In your gut, lactobacillus bacteria create the neurotransmitter gamma-aminobutyric acid, also called GABA, which acts on your central nervous system to calm your nerves. Wright recommends consuming probiotics-rich foods or taking a probiotics supplement to maintain balanced moods.