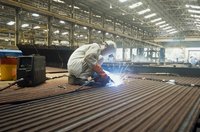 Regardless of what field you work in or what special skills you have, a clear and concise resume is essential to getting a job in your area of expertise. Besides listing your experience and contact information, your resume may also include a career objective section. For welders, whose work is highly specialized but also in demand in several industries, a career objective can help the communication between an applicant and prospective employer.
Types
As you search for a job to advance your welding career, you may want to draw attention to several different types of career objectives. Short-term objectives, such as going to work for a specific employer or in a given industry, help focus your goals on the job in question. For example, if you apply to a job at an automobile manufacturing plant, a useful career objective would be to secure a position in the manufacturing sector. Your career objective should also note what type of work you are seeking, such as full-time, part-time or commission-based.
Additional Information
Your welder's resume can include additional facts about your long-term goals in the objective section. You can state that you are working toward an American Welding Society certification in a given field of welding as a way of showing your dedication to your craft and informing employers that you will have additional skills in the near future. If you have a great deal of experience and want to serve as a mentor or work in welding training, include this information in your objective as well. Employers may prefer you over other candidates if they see that your objectives include serving as a teacher for others, especially if they have a number of inexperienced welders on the job.
Format
The objective section of a resume generally appears near the top of the page, sometimes as the first piece below your contact information. It should begin with the words Career Objective or Objective. The text should not be more than two or three lines, which means you must summarize your goals in as few words as possible. You do not need complete sentences, although grammar and spelling are important. A section on education or skills usually follows the objective on a resume. If you have highly specialized welding skills, such as a new technology or robotic welding, you can include it as both a skill and an objective, noting that you want to continue practicing your skill with this technique in any job you take.
Options
Not all resumes include career objectives, which means that the decision of whether to include one as you apply for jobs is yours. To reserve space on your resume for listing your skills and highlighting your work experience, include some of the same information that would fit in a career objective statement in your cover letter instead.
The cover letter is a separate page that you attach to your resume when you submit it to a prospective employer. It includes a formal greeting and notes how you heard about a position. Your cover letter can also specify your career objectives and note how the job you're applying for fits into them.