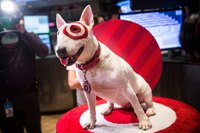 Some businesses create mascots to market their brand and increase brand awareness. Using mascots as marketing tools can be an effective way to create a consistent marketing theme from campaign to campaign. Increased brand awareness can result in higher sales or retention of customers.
Purpose
A mascot serves as a real-life character that promotes a brand, product or company. In some cases, like Mr. Clean and the (Jolly) Green Giant, the mascot IS the brand. A mascot serves as an identifiable character that consumers associate with its brand. While mascots generally are created to increase sales or company visibility, some, like Smokey the Bear, promote causes.
Uses
Companies that use mascots often feature them prominently in their advertising campaigns, but they're also used to generate goodwill in local communities. Mascots of sports teams are also frequent visitors to community affairs like parades, sporting events, and other local events. They interact with community members, sometimes handing out product samples and promotional items or posing for pictures with community members.
Types
When people hear the word "mascot," they often think of a human dressed up as a furry creature, such as the popular San Diego Chicken. However, real people can be mascots as well. Subway restaurants used a real-life customer, Jared Fogle, to head the restaurant's advertising campaign for years, and William Shatner's numerous appearances for Priceline qualify him as a mascot for that firm. Mascots are not always of the human variety, either. Many colleges use animal mascots to promote their brand, such as the University of Georgia's bulldog Uga. Other famous mascots that have become inextricably linked with the brands they promote are Tony the Tiger, the Geico gecko, the AFLAC duck, Joe Camel and the Marlboro Man.
Keys to Success
Creating a mascot doesn't guarantee a successful marketing campaign. Mascots must appeal to consumers in a unique way. A lovable creature that represents a local sports team can appeal to young children and draw in families to sporting events. However, mascots should exemplify the brand somehow, like Elsie the Cow, Mickey Mouse, the Pillsbury Doughboy and the Energizer Bunny. Simply assigning a random mascot to your business, though, doesn't mean that consumers will identify with it, embrace it and respond with increased sales. Note that Ronald McDonald is instantly recognized as McDonald's mascot and is regularly an integral element of the company's campaigns, but competitors' mascots, including the Burger King and Wendy, never really caught on.