Being prepared is a big part of being a successful student. In seventh grade, part of the training ground for high school, you can set the stage for future success and smooth sailing by knowing what you must have in your locker on a daily basis. Eliminate the non-essentials and fill your locker with all the must-haves and a lot of the nice-to-haves.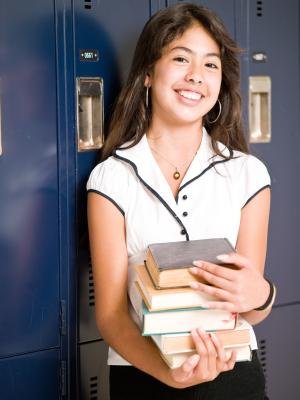 (Jupiterimages/Photos.com/Getty Images)
Your school locker is primarily for school-related items, so give them first priority. Keep all notebooks, textbooks and supplemental materials in your locker at school unless you need them for homework. Buy a clear plastic zippered bag and fill it with extra pencils and pens, an eraser, small calculator, scissors, three-hole puncher and highlighter. Keep loose papers in a single folder. Keep spare testing items on hand, such as Blue Books or No. 2 pencils.
Jetta Productions/Lifesize/Getty Images
As a seventh-grader, you're just getting started with extracurricular activities and learning to keep up with myriad bits of equipment. Gym clothes (and a spare set, if possible), athletic shoes and team uniforms should go into a small bag that can hang from a hook in your locker. On the bottom shelf, place cleats, gloves, hats, headbands and balls. Hang a copy of your team's schedule on the locker door. If you're a cheerleader, leave your pom poms in your locker. If you sing in the chorus, leave your robe neatly folded in your locker. If you know you'll need something immediately after school for a match or a meeting, keep it in your locker.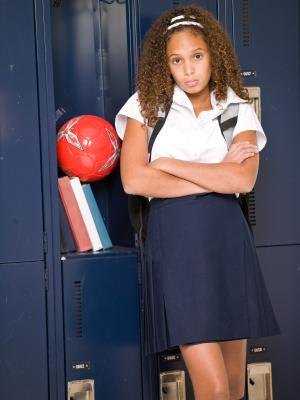 Jupiterimages/Photos.com/Getty Images
If you're like most middle-schoolers, you want to look your best at school. Girls who wear makeup should keep a small makeup kit in their locker for touch-ups and a brush. Guys should have a comb handy. Girls should keep a spare supply of feminine hygiene products. Even if they don't yet need them, seventh grade is a common time to begin needing them. Seventh-grade boys should keep deodorant in their lockers to combat perspiration. Keep a disposable camera in your locker for capturing hallway memories and a mirror to check your appearance between classes. If you bring your lunch, your lunch box should hang from a hook in your locker. Keep a bottle of hand sanitizer in your locker. Never keep your personal diary, money or any expensive electronics in your locker.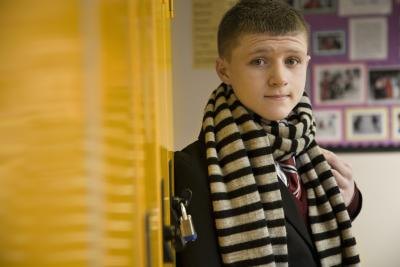 Jupiterimages/BananaStock/Getty Images
In seventh grade, your course load and extracurricular schedule will likely increase quite a bit from previous years. Keep a calendar in your locker and mark dates of important matches and due dates. Get a small dry-erase board for writing quick reminders to yourself (or for friends to scribble little notes). Install a locker organizer for storing small things. Put a clock in your locker to ensure you get to class on time. Put up pictures of friends, family or pets - anything that will make you smile on a rough day (seventh grade can be full of them). Decorate the back of your locker with funny magnets.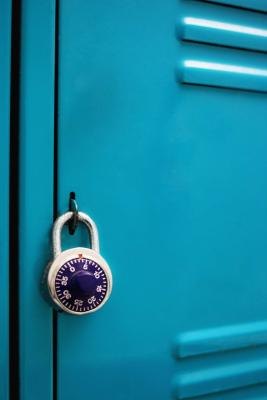 Jupiterimages/Brand X Pictures/Getty Images
Promoted By Zergnet