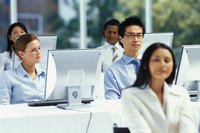 Organizations employ the services of trainers to familiarize new employees with their jobs. In many cases, training also serves to enhance the skills or knowledge of existing employees to keep pace with changes in technology or work methods. The success of such training sessions in achieving the desired objectives depends, to a large extent, on the qualities of the trainer. Firms can ensure they're engaging the best trainers by having someone who is proficient in the topic sit in on sessions and evaluate the trainers according to a specific set of objective criteria.
Subject Expertise
Observe if the information a trainer conveys is accurate. For technical subjects, assess relevance of content to the area of training. Study if the trainer's presentation provides information at an appropriate level of detail. Observe the trainer's usage of audio visual aids such as PowerPoint presentations and note if he incorporates relevant and timely statistics, diagrams, charts and illustrative examples.
Presentation Skills
A trainer must be able to get people to listen attentively. Check if he has a loud and clear voice that commands attention, and uses humor to enhance his presentation. Look for a definite ordering that presents material in a logical sequence. In addition, judge the trainer's ability to assess the audience's level of knowledge and quickly adapt his presentation accordingly. A good trainer also has the ability to break down complex content into smaller portions that are easier for the audience to understand.
Body Language
Someone you engage to train your staff must quickly generate confidence in her mastery of the subject. Evaluate the trainer for this ability through a study of her body language. Does she maintain good eye contact with participants, smile often and use gestures to emphasize points? A trainer who greets the audience warmly, walks around giving tips during group activities, listens patiently to an answer or a question, and encourages questions connects better with the audience, ensuring a superior learning experience.
Audience Involvement
Training sessions are not an occasion for the trainer to show off his expertise, but an opportunity to help people learn important knowledge or a new skill. It is therefore important for the trainer to involve the audience in this process of learning. Check if the trainer incorporates hands-on activities, group discussions, role play and practical learning sessions where applicable. Observe if the trainer pays equal attention to all members of the group without concentrating on a few enterprising people and neglecting less vocal participants.