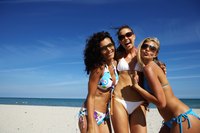 The bikini was introduced in the late 1940s. The scandalous two-piece design was more revealing than its modest one-piece predecessor. Despite initial resistance by conservative types who argued for modesty, the bikini became a wardrobe staple for beaches and pool parties. Modern bikinis range from tiny string and thong bikinis to more modest suits like tankinis and two-pieces with boy-short bottoms.
Traditional Bikini
The traditional bikini is essentially the swimwear version of a bra and panties. The top covers the breasts and is held in place by a band around the back and straps that go over the shoulders and attach to the back band. A halter top, tying behind the neck, is also a standard bikini-top option; halter tops provide extra support for large busts. The bottom of a traditional bikini ranges from providing full coverage to a tiny garment that lies low on the hips and is cut high on the legs.
String Bikini
The string bikini is similar to the traditional suit, however, all sections are attached with a very thin string, including the front and back of the suit bottom. There is a psychological game afoot -- other suits, such as a thong bikini, may reveal more, but the strings make this bikini style playfully sexy. This suit works better for sun bathing than strenuous sports or activities.
The Thong Bikini
The thong bikini's key feature is its barely-there string, which sits between the buttocks and puts the rest of the rear on display. This tiny bottom may be paired with any type of bikini top. Thongs look best on those who are in good shape. This suit is ideally paired with a sarong when you're outside of the water, so you can walk around and sit where you like without injury or irritation.
Bandeau Bikini
The bandeau bikini features a strapless top that may fit like a strapless bra or a tube top. The bandeau style looks best if you have an average bust size. Busty ladies will find that a bandeau provides little support and is in danger of sliding off. Women with smaller busts will get little enhancement from this top unless it has ruffles.
Modest Bikini Options -- Tankinis and Boy Shorts
If you like the feel of a two-piece suit but want a little more coverage, you have bikini options as well. For upper body coverage, select a tankini: a bikini with a top similar to a tank top. A tankini top usually comes close to meeting the top of the bikini bottom. For coverage of the hips and derriere, or for strenuous water sports, wear a bikini with a boy-short bottom. The boy-short bottom is a stylized version of a man's swimming trunks, or board shorts, and may be cut very high or go all the way to the knees.