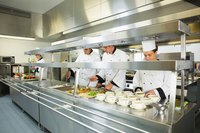 Up to 60 percent of independent restaurants fail within three years of business. A way to counteract this is to develop a competitive advantage by offering more value than the competition. If restaurant owners utilize technology, employ efficient marketing, meet performance standards and develop a culture of quality, major competitive advantages are achievable.
Utilize Technology
A restaurant owner can differentiate customer service by using technology in innovative ways, such as online reservation systems, automated ordering systems and smartphones to eliminate the need for a written guest check. Technology enables faster, consistent and more-accurate guest services, allowing a restaurant business to increase efficiency and gain a competitive advantage. For example, by implementing a customer relationship management system, a restaurant business can track what customers are likely to order and in turn effectively market to them.
Employ Efficient Marketing
According to Panera Bread CEO Ron Shaich, "competitive advantage is everything." It's true. And a way for a restaurant owner to achieve this is to employ marketing initiatives that revolve around the customer. Targeted marketing will depend on the restaurant's demographic and psychographic factors. For example, if a restaurant business is located in a college town, it may be best to offer a live band and discounted drinks to bring in business on certain evenings. Post promotions and events on social media outlets as well as blog websites to create buzz, increase customer loyalty and build a solid word-of-mouth.
Meet Performance Standards
Track and monitor performance, such as employee skill level, food costs, labor budgets and customer service scores from surveys to identify issues in day-to-day restaurant operations that may have a lasting negative effect in the long-term. For example, if a person from the wait staff is not meeting the expected skill level to deliver exemplary customer services, the restaurant owner is able to take immediate corrective action. Catching problems early can help restaurant owners focus on quality that enables it to increase customer loyalty and gain competitive advantage.
Develop a Culture of Quality
All employees in the restaurant's organization, such a management, wait staff and kitchen crew need to be committed to the company's mission and be dedicated to delivering quality services. Teamwork aimed at reaching common goals will assist in exceeding customer expectations. By ingraining quality in the company culture, consistency, high standards and dedication will become part of day-to-day operations, which may in turn leave neighboring restaurants with an inability to compete.