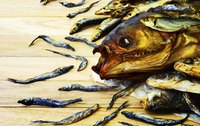 Smoked fish is often considered a delicacy served at brunches, as appetizers or main entrees. While many of us enjoy this salty indulgence, certain risk factors should be considered when choosing to eat smoked fish. Smoked fish can produce certain bacterias and parasites linked to food poisoning, and certain studies also suggest greater dangers to health, when eating smoked fish in large quantities.
Listeria Poisoning in Smoked Fish
Smoked fish are possible carriers of certain bacterias which can cause mild to severe food poisoning. One possible hazard of smoked salmon is the production of listeria monocytogenes, which causes a rare but severe disease, listeriosis. This disease occurs more often in people with weak or compromised immune systems. In addition, women who are pregnant should avoid raw or smoked fish. In most cases, symptoms of listeriosis include nausea and vomiting, however in rare cases, complications can include blood infection or inflammation of the covering of the brain. Infection during early pregnancy often results in miscarriage.
Histamine Poisoning in Smoked Fish
Cold smoked fish such as tuna, mackerel, salmon, herring and anchovies can produce biogenic amines including histamines, which have been known to cause food poisoning. Symptoms of histamine poisoning include vomiting, diarrhea, low blood pressure, headache, palpitations and rashes. Histamine poisoning can be mild to severe, but severe cases only occur when very large doses are consumed.
Questionable Processing of Smoked Fish
One problem with smoked fish is that the process the fish underwent before arriving at the table is often unknown. Where possible, question the production, handling and storing process of the smoked fish. Freezing the raw fish before the smoking process greatly reduces risk factors of contamination by parasites. Salt brines for salted fish must contain between 3.5 to 5 percent salt. When fish is cold smoked, it must be prepared in a uniform shape and size to ensure proper smoke absorption throughout the whole fish. Smoked fish should be air-packaged or packaged with a vacuum seal. If you question any of these method, it is wise to avoid the fish product.
Sodium Content of Smoked Fish
A 3-ounce serving of smoked salmon has 571 milligrams of sodium. If you are watching your salt intake or are at risk for high blood pressure, you should not consume more than 1,500 milligrams of sodium per day, according to the American Heart Association, and a serving of smoked fish contains more than 30 percent of your recommended intake. Excess sodium intake increases your risk of high blood pressure, heart disease and stroke.
Other Health Hazards of Smoked Fish
As is the case with many health concerns, the risk factors of eating smoked fish and other meat are a subject of debate. However, some studies suggest consuming large amounts of smoked meat can increase the risk of certain cancers, specifically colon and stomach cancer. The reason for these claims is that after the meat or fish goes through the smoking process it contains nitrite and nitrate salts, which have been linked to certain cancers and high blood pressure in high doses.