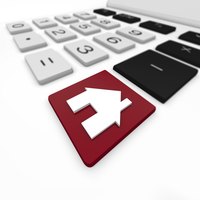 Many moderate-income borrowers choose Federal Housing Administration mortgage loans because they don't require as much money upfront or during the early years of the loan. An FHA loan is insured by the government and protects the lender in case of default, allowing borrowers to qualify with a 3.5 percent down payment. FHA lenders sometimes offer adjustable-rate mortgages, which may have an interest-only period in which no principal is due. An FHA 5/1 interest-only ARM requires only interest payments for the first five years, resulting in lower monthly payments during this period but higher payments in later years.
ARMs Also Known as Hybrids
An FHA 5/1 ARM has two components: a fixed-rate period and the time frame between interest-rate adjustments after the first rate change. A 5/1 ARM's introductory rate increases after five years. The rate can then continue to change every year thereafter, thus, the "1" in 5/1.
Interest-Only Period May Vary
The lender must disclose the interest-only period's expiration before you get the loan because the payments will inevitably increase when it ends. The interest-only period may vary from one loan to the next. For example, the interest-only period on a 5/1 ARM might expire before five years, when the rate is set to change. It can also take five years or longer before you have to pay back the loan's principal.