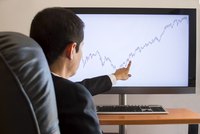 The price-to-cash-flow ratio is used by investors to assess the financial viability of corporations. Companies with low price-to-cash-flow ratios are able to generate sufficient cash and are consequently more likely to have enough money for business operations. They also tend to be undervalued investments. A good price-to-cash-flow ratio is between 10 and 20, but no single price-to-cash-flow ratio can be applied to all businesses, due to differences in their products, services and industries.
Measurement
To calculate the price-to-cash-flow ratio, a company's common share price is divided by its operating cash flow per share, which itself is found by subtracting preferred dividends by operating cash flow and dividing that by shares outstanding. Operating cash flow subtracts depreciation and other deductions, such as deferred income tax or accounts receivable from net income; it is located on the cash flow statement, a document that publicly traded companies must report.
Forecasting
According to James P. Shaughnessy, author of "What Works on Wall Street," a low price-to-cash-flow ratio assists in forecasting higher returns on investment than companies with higher price-to-cash-flow ratios. Furthermore, Shaughnessy demonstrates that larger companies with low price-to-earnings ratios perform better than smaller companies. He does this by tracking the performance of 50 companies with low price-to-cash-flow ratios over a 52-year timeline.
Analysis
Even though a low price-to-cash-flow ratio is considered good, it is better to evaluate this ratio by testing it against other ratio results for more comprehensive financial analysis. For example, comparing price-to-cash-flow with the asset-efficiency ratio demonstrates how well cash flow is generated from assets by dividing cash flow from operations by total assets. Moreover, a high asset efficiency ratio shows this according to Professor Frank R. Urbancic of the University of South Alabama Mitchell College of Business.
Industry
Importance of cash flow varies by industry. Industries such as cable companies have higher capital requirements than others. Businesses in these types of industries ideally have lower cash flow numbers on average than companies in industries that require less cash flow. Low cash flow ratios in a high cash flow business is generally a greater sign of financial strength than low cash flow ratios in businesses such as services with low overhead costs that require little cash for daily operations.
Variations
Two additional price-to-cash-flow ratios are useful for enhancing and further verifying the financial assessment of the price-to-cash-flow ratio. One is called the price-to-discounted-cash-flow ratio and measures the present value of future cash flow by deducting variables such as future risk and inflation. The second is called price-to-free-cash-flow ratio and divides a business' total share value by cash flow that also deducts asset purchases. Both these ratios also indicate good value when lower.