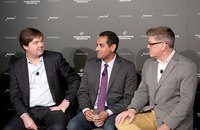 The overall objective of investor relations is to build understanding and relationships of trust with financial media, analysts and shareholders. Effective investor relations can build confidence in an organization, increase its base of long-term investors and reduce its overall cost of capital. Organizations can manage investor relations through an internal department or appoint a public relations firm with financial capability.
Value
According to Ogilvy Public Relations, the objective of an investor relations program is to build investors' confidence in an organization's ability to create measurable value. The program should therefore communicate the organization's long-term strategic vision so that it creates a credible proposition for delivering continuing shareholder value in the future.
Trust
TDK Corporation, a manufacturer of electronic components, emphasizes the importance of building relationships of trust with its stakeholders. The company aims to achieve this by fulfilling responsibilities to shareholders through fair disclosure of information and bilateral communication.
Measurement
Corporate communications research firm, Corporate Eye, sets out a number of related tasks and objectives for investor relations. To achieve an overall aim of promoting the purchase and retention of an organization's stock, a company's investor relations team must develop appropriate investor information, respond to requests for financial data, monitor analysts' views and maintain ongoing research on issues that impact its corporate reputation. The firm says that organizations should measure the effectiveness of these activities to determine their Return on Investment (ROI) in investor relations.
Responsive
An organization needs to respond promptly and openly to requests for information from investors and other stakeholders. The team should develop and distribute a range of communication material including presentations, press releases, financial fact sheets and website content. They should also be responsible for organizing investor events, such as Annual General Meetings, analyst briefings, press conferences and web events announcing financial results.
Analysts
Analysts track an organization's business and financial performance, preparing reports and comments that can influence shareholder behavior. Maintaining effective relationships with analysts is an important component of investor relations. An organization should provide a continuous flow of information that relates to its financial performance. It should also brief analysts on important issues such as mergers and acquisitions, management appointments, financial results, new product launches or market success. Analysts should also have an opportunity to interview senior executives to obtain views on results, performance or future prospects.
Research
To meet the other objectives of investor relations, it is essential to carry out continuous research into stakeholders' views. Review press articles and analysts' reports to assess current opinion on the organization. Use the research findings to make any necessary changes to the investor relations program.