Optometrists are eye doctors who serve as the primary source of vision care for many people. According to the Bureau of Labor Statistics, 34,800 optometrists held jobs in the United States in 2008. The number is expected to grow to 43,200 by 2018. Optometrists made a median salary of $96,140 as of May 2009. As with medical doctors, optometrists spend several years beyond college working on a professional Doctor of Optometry degree.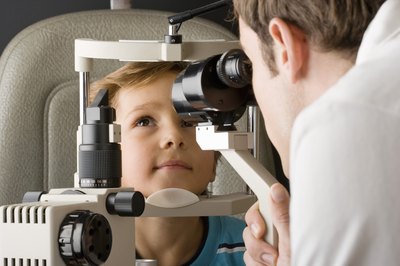 Undergraduate Education
Optometrists typically need a bachelor's degree to qualify for optometry school. Although no specific undergraduate major is required, a degree in an area of the sciences, such as biology, can be helpful for preparation for optometry school. Some schools offer a pre-professional health studies major that can prepare students for various medical professions. Optometrists need to have a strong understanding of human anatomy and physiology and the basic biological sciences. Most bachelor's degree programs take four years to complete.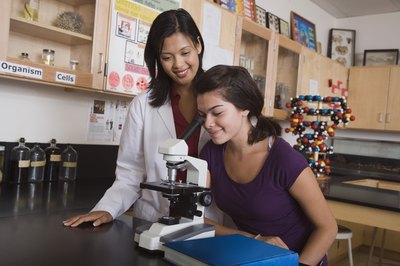 Optometry School
Following completion of a bachelor's degree, aspiring optometrists complete four years of optometry school. According to the Bureau of Labor Statistics, there were 19 accredited optometry schools in the United States in 2009, along with one in Puerto Rico. Entry into optometry school is competitive. The bureau notes that only about one in three applicants is accepted. Applicants must take the Optometry Admissions Test as part of the admissions process.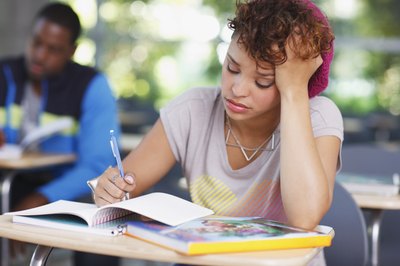 Residency
Much like medical school, doctors of optometry must complete a residency after their optometry education. Optometry residencies, however, typically take one year to complete, rather than the three or more years required by most medical residencies. Optometry residents can pursue specializations in areas like primary care, pediatric optometry, low-vision rehabilitation and ocular disease, among others.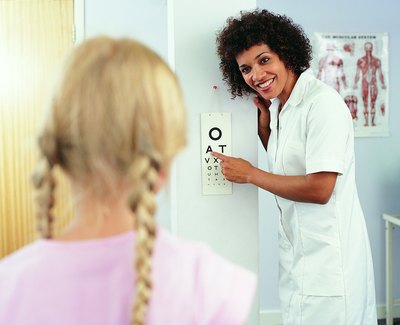 Licensing
Licensing is also required for optometrists. Optometrists are required to pass both a national licensing examination and a state or regional licensing examination. These exams typically consist of written and clinical components. They are generally taken during optometry school, so no additional time is actually required for this part of the optometrist's training. All-in-all, aspiring optometrists can expect to spend about nine years preparing for the career, when undergraduate and optometry school requirements are taken into consideration.