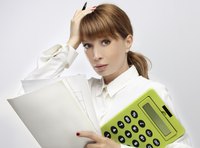 When you earn income not subject to withholding, such as income from self-employment, dividends and rental properties, you typically must make quarterly estimated tax payments to the Internal Revenue Service. The typical due dates for a given tax year are in the middle of April, June, September and the following January.
Due Date Basics
The standard due dates for estimated payments are April 15, June 16, Sept. 15 and Jan. 15. However, the IRS has a "Saturday, Sunday, Holiday Rule," which means that if any of these dates fall on a Saturday, Sunday or holiday, you are safe with a submission postmarked by the following Monday or non-holiday.
Unique Variables
The general rule is that if you expect to owe $1,000 or more in a year on self-employment taxes, you must make estimated payments to the IRS. If your income is steady throughout the year, you should have consistent payments. With variable income, use the IRS worksheet in Publication 505 to estimate taxes for each quarter. Underpaying for any period leads to an underpayment penalty based on the total amount of the deficiency, according to the IRS. If you don't earn income for a given period, you wouldn't owe estimated taxes. Also, if you also have a regular job, you may have estimated taxes withheld through your employer by requesting additional withholdings on a W-4 form.