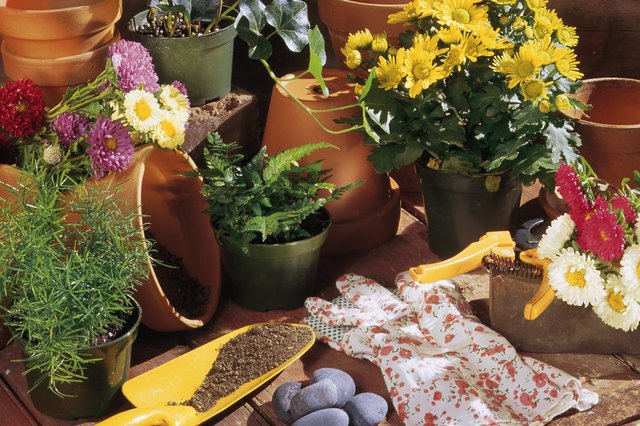 Whether you cry when you toss out your annuals at the end of summer or when you pay to replace them the following spring, you may have thought there has to be a better way. The better way is called perennials, flowers that live and bloom more than one season. Growing container perennials is the opposite of killing two birds with one stone -- you pay once and get two garden uses. Perennials also have the advantage of being lower maintenance and doing better in the shade than annuals.

The way to plant a perennial container is to get a big pot with ample drainage holes, fill it with good potting soil, then repeat to yourself: thrill, fill and spill. First add a focal plant to thrill, then frothy plants to fill up the space, followed by cascading perennials to drip romantically over the edge. Spillers are also top choices for hanging baskets.

Thriller: Foxglove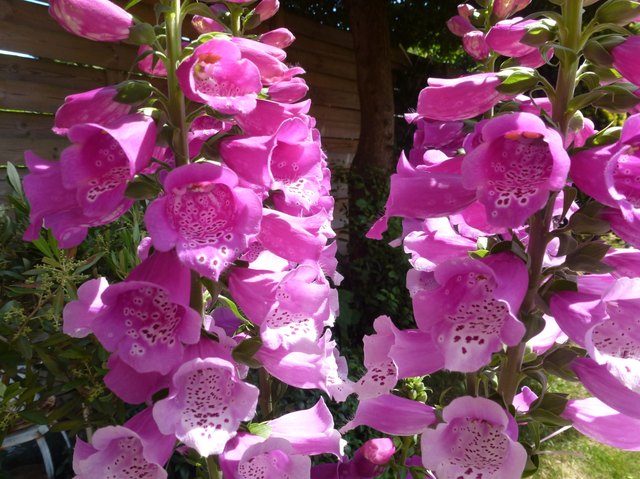 Foxglove is a native known for its spikes of bright blossoms. Dalmatian foxglove (Digitalis purpurea 'Dalmatian Purple Improved') offers outward facing flowers with spotted interiors on 3-foot high stems that bloom earlier in summer and longer than the common varieties. Hardy in U.S. Department of Agriculture plant hardiness zones 4 through 9, dalmatian foxglove thrives in sun or partial shade in well-draining, loamy soil that is slightly acidic.
Thriller: False Spirea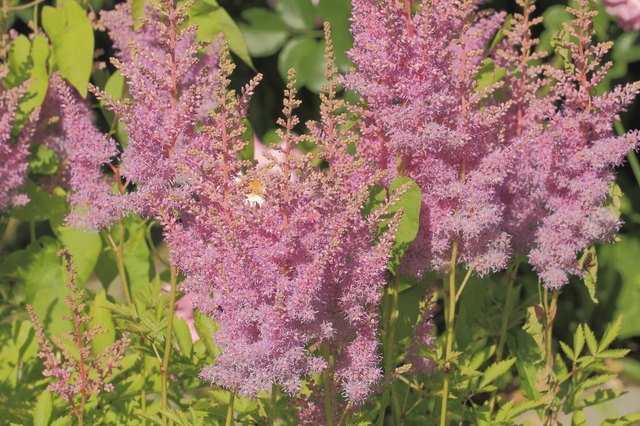 Here's a thriller choice for a shade garden: false spirea (Astilbe 'Delft Lace') that grows happily in partial shade or full shade. The foliage on this perennial is lacy and delicate, and the plant offers an ever-changing display from spring through fall. Look for red stems in spring that carry panicles of deep red flower buds. These evolve into soft pink blossoms as spring turns to summer, followed by the deep red seed panicles that hang on the plant into fall. The plant grows to 2 to 3 feet high in USDA zones 4 through 9, with a spread of 2 feet. These perennials live a long time if planted in rich soil and partial shade. Keep that water coming: These are thirsty plants.
Filler: Bugleweed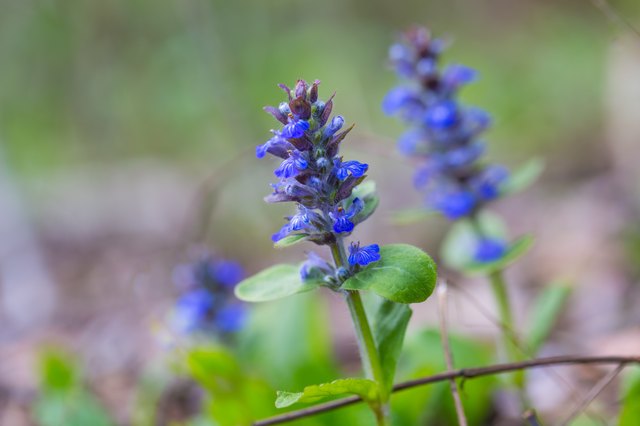 Bugleweed (Ajuga reptans 'Black Scallop') is a low, dense, flowering ground cover that thrives in USDA zones 4 through 10. The flowers are only 6 inches high, but each plant spreads to 10 inches, making bugleweed a shoe-in for the filler role in a container or hanging basket. The foliage on this cultivar is almost black, while the flowers are a gay shade of blue. Grow bugleweed in partial to full shade in ordinary soil, as long as it is well-drained.

Filler: Anemone-Snowdrop
With six, delicate snow-white petals, anemone-snowdrop (Anemone sylvestris) look fragile and romantic, but these foot-high perennials are really tough as nails. They open their 2-inch flowers in spring, each on a single stalk that emerges from the divided foliage below. But they actually grow from spreading rhizomes, making this plant an effective ground cover in addition to container material. Grow anemone-snowdrops in sandy loam in USDA zones 3 through 8. Place this one in partial shade or else in sun if you are prepared to pour on the water.
Spiller: Periwinkle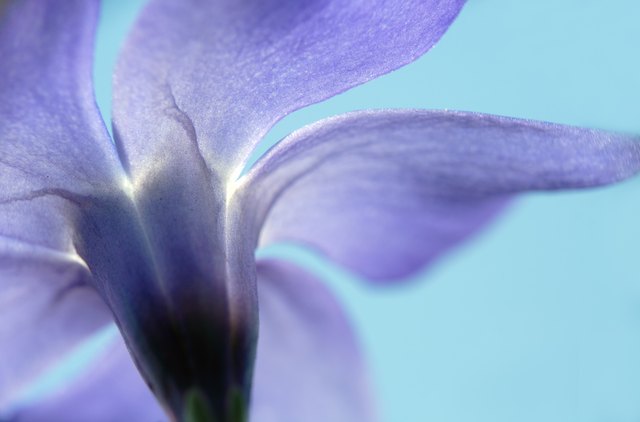 Talk about a spiller. This periwinkle (Vinca minor 'Illumination') foliage lights up darker areas of the garden when it spills in a golden cascade down a big container's sides or from hanging baskets. The effect is brightened even more in spring when the large blue flowers appear. Periwinkles are tough and tolerant plants that easily become invasive if they escape from cultivation, so containers work well to display them. This periwinkle can spread 30 inches in any well-drained soil in partial shade in USDA zones 4 through 9.