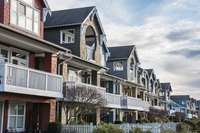 A townhouse may appeal to you due to its relatively low price, low maintenance requirements and desirable location; however, you may have trouble with the added expense and hassle of paying for these perks.
Pro: More Bang for Your Buck
A townhouse, as opposed to a condominium or apartment unit, is more likely to have the property features that make single-family homes appealing, such as a front and back yard, multiple stories, an attached garage, in-unit laundry and more living space. Older townhouses also tend to be located near central locations, like a downtown or urban core, where housing demand is high and land for building homes is scarcer than in suburban areas. A townhouse can provide comparable square footage, the same number of bedrooms and baths, and many of the same features as a single-family home in the same neighborhood, for a fraction of the price.
Con: HOA Fees Add to Cost of Owning
Townhouses are governed by homeowners associations because of shared walls and roofs and co-owned community amenities, such as landscaping, clubhouses and parking lots. The organization that runs the community is known as a homeowners association, or HOA. Made up of all townhouse owners in the development, the HOA makes and amends community rules, manages a budget and enforces rules. Because it takes money to oversee a townhouse community's day-to-day tasks, such as the maintenance and repair of common areas, each owner must pay an equal portion of the expense. HOAs assess fees, usually on a monthly basis, and as needed. These costs, known as dues and special assessments, can equal several hundred dollars per month, adding to your monthly housing expense.
Pro: Variety of Choices
Townhouses have been a popular form of housing for centuries, as builders tried to maximize land use and their profits with the relatively economic floor plan and design of townhomes. Developers have updated townhouse interior and exterior designs and community layouts. Older townhouses built in the eastern part of the country are commonly situated in rows, are attached, have more than one level and face the street. Townhouses in this classic layout are often referred to as "row houses." Throughout the country, however, you can choose from row-style townhomes, both new and old, and detached townhouses of one to three stories situated in different community layouts, such as clustered in groups of two or more units with only private streets and driveways traversing the development.
Con: May Be Tougher to Finance
As part of an HOA, a townhouse's value and financial viability may be compromised if the HOA isn't fiscally sound. Mortgage lenders are keenly aware of the need for a financially sound HOA; so they scrutinize townhouse communities during the underwriting process and may charge high interest rates on your home loan to offset their risk. Lenders require information directly from the HOA regarding the budget, reserves, dues, the number of rentals in the community and the association's insurance policy details. Red flags, such as a higher number of renters in the community than owner occupants, low reserves and pending litigation against the HOA may prevent your from financing a townhouse.