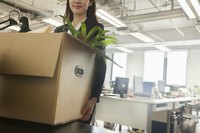 Although downsizing is a common business strategy for reducing labor expenses, it isn't always the best way to either cut costs or maintain your competitive edge. Instead of saving money and streamlining daily operations, negative consequences of restructuring and forced layoffs may worsen an already bad situation. Look at and consider the negative effects before you commit to implementing downsizing in a change management plan.
Financial Effects
Downsizing can have significant direct and indirect negative financial effects. While the objective of downsizing is to increase cash flow by reducing payroll expenses, negative financial effects can actually work to worsen your financial situation. For one thing, it takes time and money to implement a downsizing plan. For another, there is the direct expense of paying severance packages and accrued vacation to laid-off employees. Finally, you may face increased unemployment insurance taxes and lower productivity from surviving employees.
Decreased Rapport and Relationships
Downsizing decisions that focus on reducing numbers via massive job cuts often consider employees as a group, not as individuals. You not only face losing the experience and insight that skilled and seasoned employees offer, but also face losing the camaraderie and relationships that make daily operations and customer interactions more efficient. As a result, both productivity and profitability can suffer as fewer employees and thinner relationships make getting things done and generating business more time-consuming and difficult.
Increased Survivor Attrition and Replacement Costs
Downsizing often increases the number of survivors who start looking for other work. For example, if you lay off 10 percent of your workforce, you can expect a 15.5 percent rate of voluntary turnover among surviving employees, according to a column by Wayne F. Cascio of the University of Colorado Denver Business School. That compares to a10.4 percent voluntary turnover rate among companies with no layoffs. In addition, survivor attrition can eliminate workforce reduction cost-savings objectives because replacing each of these employees can cost up to 2.5 times the employee's annual salary.
Potential for Employee Retaliation
A downsizing plan that does not follow procedural justice principles can expose your business to retaliation. Procedural justice refers to employee perceptions about the procedures used to select, notify and support downsizing victims and survivors. Cascio states that laid-off employees who perceive downsizing procedures as unfair or discriminatory tend to file more wrongful termination lawsuits, while turnover rates among survivors often increases. In addition, employees who feel they are victims of unfair treatment may retaliate via theft, sabotage and even violence.