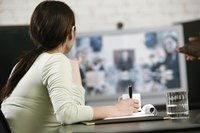 Although collaboration relies on openness, information sharing and accountability in any business setting, creating a collaborative environment can be even more challenging with a virtual team. Problems with disconnect, an inability to work as part of an online team, unclear expectations that result in poor time management and communications barriers often arise. These can be especially challenging for teams that never have worked in an online environment before, or teams with members who are unfamiliar with each other or come from different cultural backgrounds.
Isolation and Team Disconnect
First-time online teams may not fully understand what working in a virtual environment involves. As a result, individual members may feel isolated from each other and be more inclined to disconnect from the group. A disconnected team often suffers from its members' decreased morale and low productivity. These feelings can increase if the team relies heavily on asynchronous tools such as e-mails, uploads to a shared workspace and calendars for communicating and getting work done.
Unqualified Team Members
Not everyone finds it easy to work as part of an online team. Unless each member possesses qualities such as self-motivation and trustworthiness, and is both self-motivated and results-driven, the whole team may suffer. Failing to evaluate potential members, such as by assigning small online projects designed to test their ability to be productive on their own and their willingness to work with the rest of the team, can cause significant communication and productivity problems in the future.
Unclear Expectations and Responsibilities
Online team members most often take responsibility for managing their own time. However, to manage time successfully, teams must have clear expectations and responsibilities. Team leads must let members know exactly what's expected, and make sure everyone is working from the same timeline and shares the same goals. Having well-defined goals and firm expectations not only gives online teams shared goals to work toward and improves time management, but also is highly motivational.
Communications Barriers
Failing to address cultural differences, create a sense of camaraderie or fully integrate new members into an existing team can cause significant communications problems. Cultural difference can be especially problematic with e-mails, instant messaging and audio conferencing where members might misinterpret writing or speaking styles. Without camaraderie, there is less trust and understanding within the team. In addition, members in already established teams may be more reluctant to share information or be less open to suggestions from new members.