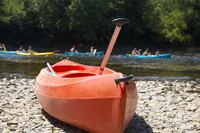 What is it about warm summer weather than makes a lazy river so appealing? It's hard to imagine a better way to spend a sunny afternoon than floating downstream in a raft, canoe or kayak. Once you have your vessel loaded up with the essentials -- food, water, first-aid supplies, paddles and that sort of thing -- it's time to think about what kind of fun extras you can fit on board.
Music Makers
The pluck of an acoustic guitar goes hand in hand with the trickle of water and the crackle of a campfire. A small travel guitar -- sometimes called a backpacker guitar -- fits easily into a knapsack or the open hull of a canoe. Travel guitars are available at most music stores, and are typically less expensive than full-size models. If space is an issue, or you're not quite ready to display your guitar chops to the world, consider a ukulele or a set of harmonicas.
Fishing Gear
Some of America's best floating rivers, like the Green River in Kentucky and the Caney Fork in Tennessee, are also excellent fishing streams. Bass, trout and panfish are abundant in rivers all over the country, and casting a line is a relaxing way to pass the time as you drift through deep, slow-moving water. A handful of lures and a light-action spinning rod spooled with 6-pound line will work in most situations. If you plan to do any fishing, be sure to check local regulations and obtain a valid fishing license.
On Land and Underwater
You don't have to spend your entire float trip floating. When you're ready to take a break, a sandy beach or shady tree can be the perfect place to rest, soak up some sun or watch for wildlife with the binoculars you brought. Pack beach towels and blankets in sealed plastic bags so they stay dry. Throw in some swimming shoes, goggles and fins so you can explore the underwater world while you take a swim. If the river you're floating passes through privately owned land, always get the permission of the landowner before stepping on shore.
Camping Supplies
If you have the time, keep the adventure going by extending your float trip overnight. You may not be able to fit all the comforts of home in the bow of a canoe, but small tents, sleeping bags and camp stoves don't take up too much room. If the river you're floating passes through state or national park land, there may be campsites nearby -- even right on the shore. Do a little research and place reservations in advance if necessary. Many state forests allow backcountry camping free of charge, but regulations vary by state.